Index funds enable investors to own baskets of stocks, bonds or other securities that track benchmarks known as "indexes," thereby offering investors an effective way to participate in the markets. Many investors are attracted to index funds because of the diversification they provide, their tendency to be tax efficient and their relatively low costs.
Diversification
Index funds can be either mutual funds or exchange-traded funds (ETFs). Regardless, they hold either all the securities in their specific index or a representative sample, meaning that by investing in a single index fund you might gain exposure to hundreds of securities. This dilution of risk, or "diversification," is a basic tenet of modern portfolio theory, which holds that you can reduce the risk of your overall portfolio by owning a number of securities that tend to move independently of each other.
Tax efficiency
Index funds are generally more tax-efficient than actively managed funds. Actively managed funds tend to have higher turnover as managers attempt to beat the market, buying and selling securities frequently. Without that turnover, there are fewer occasions to realize capital gains and therefore, fewer taxable events.
Low costs
While active managers buy and sell securities more frequently, index funds hold investments until the index itself changes in response to securities meeting or failing to meet its criteria. So overall, index funds tend to have lower operating expenses and management fees. The average annual cost, for example, of an actively managed all-equity mutual fund was roughly 0.92% of assets in 2013, according to the Investment Company Institute. Index mutual funds typically charge between 0.10% and 0.30% of assets.
The difference in fees between index and actively managed funds adds up: For example, a $100,000 portfolio, with fees of 0.25%, growing at 6% annually over 25 years would accumulate almost $58,000 more than the same portfolio, at the same growth rate, with fees of 0.90%.
Automated tracking versus active management
Admittedly, investing in index funds is not a perfect solution. For example, they won't deviate from their index in an attempt to mitigate downside risk, regardless of market conditions. Active managers do have greater flexibility in responding to changing markets, and some have demonstrated proficiency in providing a level of downside protection.
However, index investing removes the emotional and behavioral biases that may hinder active managers. Several academic studies have shown how difficult it is for active fund managers to consistently outperform their benchmark.
It's hard for active managers
Number of actively managed equity funds in the top performance quartile.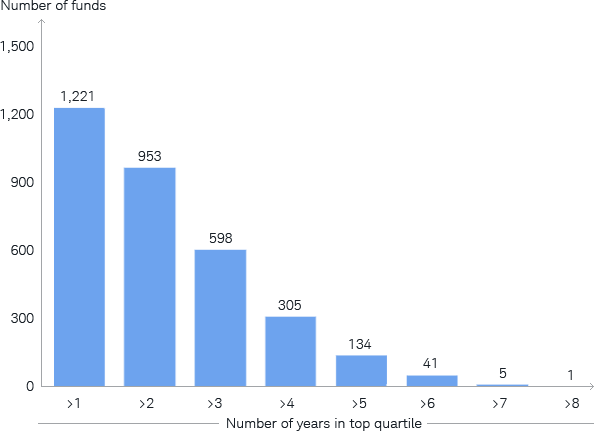 Source: Schwab Center for Financial Research with data provided by Morningstar. The chart examines a universe of 1,320 distinct portfolios of diversified US domestic equity funds with a complete 10-year history from January 2004 through December 2013. Each fund's annual performance was ranked within a given year and placed in quartiles within its respective Morningstar style category. The annual ranking was derived by comparing the fund's performance to the performance of all distinct, nonpassive portfolios currently placed in the category. The number of times an individual fund's annual performance ranked in a year's top quartile was then counted. Past performance is no guarantee of future results.
When you factor in the potential underperformance of active managers relative to the market, plus the fees they charge—indexing emerges as an appealing alternative for many investors.