Looking for ways to cut your tax bill? It's not too late to contribute to a traditional individual retirement account (IRA), potentially reducing your taxable income now1 with the goal of building your nest egg for later.
Here's another tip: By changing the timing of your contributions, you may be able to help your IRA grow more over time. According to the Schwab Center for Financial Research, regularly contributing at the beginning of the year—instead of at the last minute—has resulted in higher balances at the end of most 20-year investing periods.
The basics
The IRS allows you to establish an IRA (traditional or Roth) and contribute up to $5,5002 right up until the tax filing deadline—typically April 15 of the following year (for the 2015 tax year, the deadline is April 18, 2016). That's a 15-month window to contribute if you open your IRA in January.
If you haven't yet made a contribution for the 2015 tax year, there's still time. And if you can swing it, now may be an ideal time to max out your IRA for 2016.
Get a 15-month head start on compounding
By making your contribution early in the tax year, instead of waiting until April of the following year, your portfolio could get a head start on compounding—as much as 15 months, if you'd invested in early January. Historically, greater time in the market has resulted in a larger ending portfolio balance.
You don't just have to take our word for it. To test this advice, we examined three different scenarios:
Contributing early: We assumed that $5,500 was invested in the S&P 500® Index on January 1 of every tax year from 1928 to 1995 (this is hypothetical—you can't invest directly in the S&P 500 Index, or in any stock index, but we're using it here as a proxy for the broader stock market).
Contributing late: For each tax year, we assumed that $5,500 was invested in the S&P 500 on April 1 of the following year.
Regular contributions: We assumed that $458.33 was invested in the S&P 500 on the first day of each of the 12 months of the tax year (totaling $5,500).
The chart below shows the ending portfolio balance when $5,500 was invested each year for 20 years. All portfolios were evaluated on April 1 of the twentieth year—right after the "late" contribution had been made.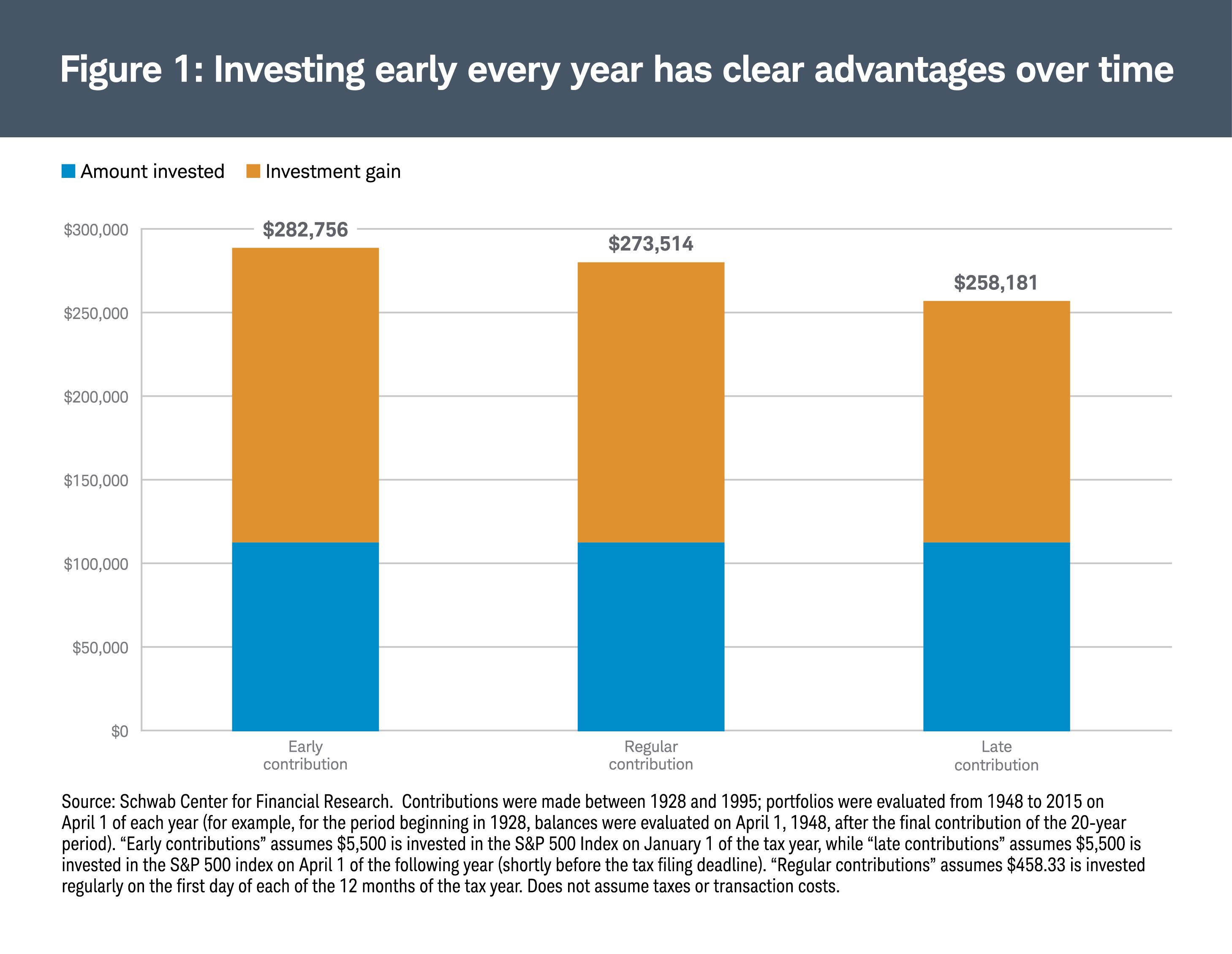 The result? Contributing early was the clear winner. On average, early-contribution portfolios ended the 20-year period with a total balance of $282,756.
Late-contribution portfolios fared the worst, relatively speaking. They ended up with an average balance of $258,181. It's worth noting, however, that they did grow. In other words, better to make a late contribution than no contribution at all.
And if you don't have $5,500 on hand to contribute all at once, the third option we tested—contributing regularly throughout the tax year—was nearly as good as contributing early. Regular-contribution portfolios had an ending portfolio balance of $273,514. That's around $9,000 less than the "winning" early-contribution portfolio and $15,000 more than the late-contribution portfolio.
It's almost always better to invest early
Is it always better to invest early? Well, no. There were a few years during the Great Depression when it would have made more sense to start investing late. However, every year since 1932, the portfolio that invests early has made more money at the end of 20 years.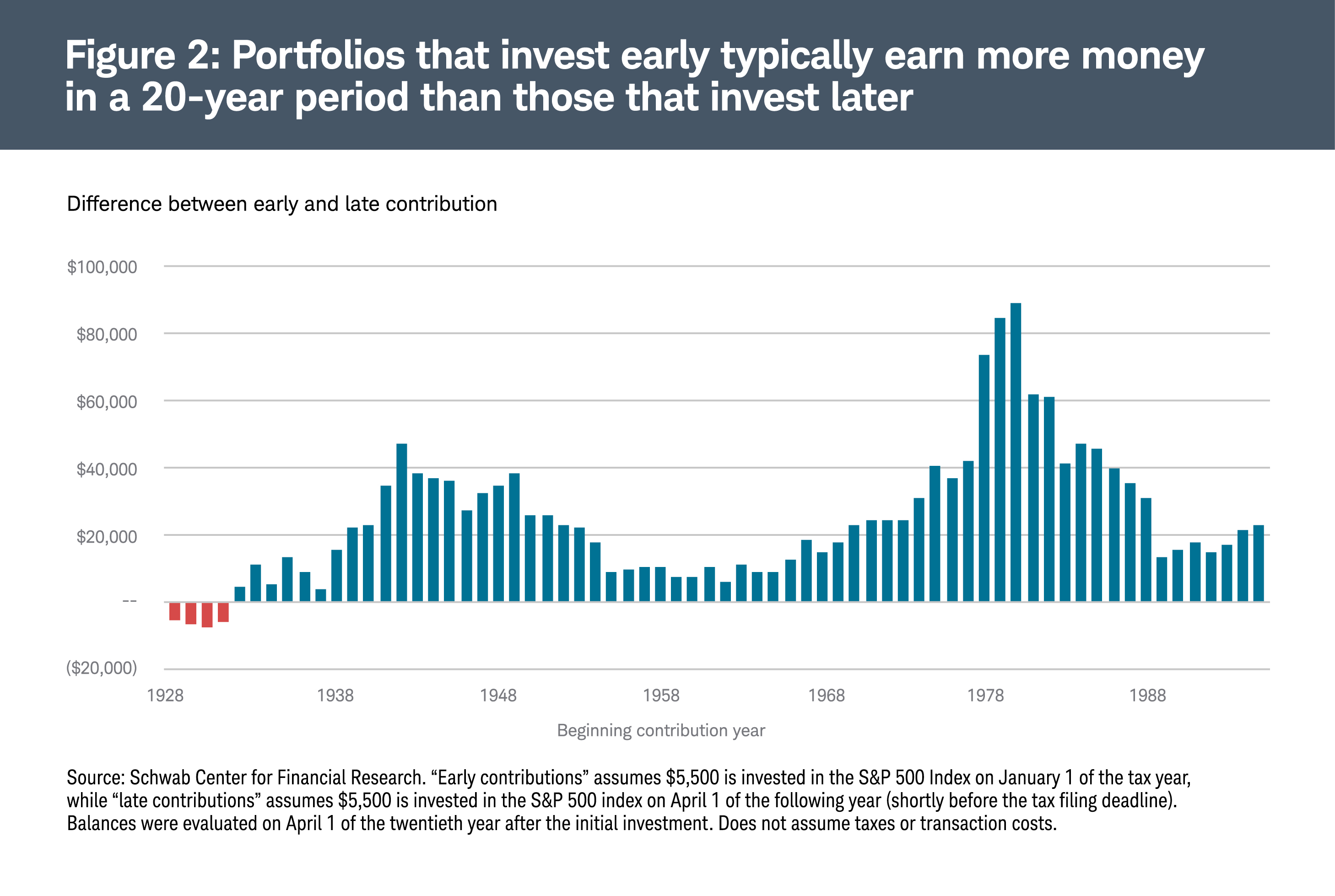 The bottom line
Contributing to an IRA makes sense for many investors. Schwab Intelligent Portfolios® gives you the option of investing in a low-cost, diversified portfolio of exchange-traded funds in either a traditional or Roth IRA account.
And if you decide to invest in an IRA, consider maximizing the potential benefit of your investment by making it as early as possible during the tax year, or through regular contributions throughout the year. It won't cost you any extra, and while there is always investing risks, could result in a higher portfolio balance down the road.
1. Contributions to a traditional IRA may be tax-deductible depending on your income, tax filing status, age and other factors. Contributions to a Roth IRA are not tax-deductible. Please visit IRS.gov or consult a tax professional for more information about the rules governing IRA contributions and tax deductions.
2. $6,500 if you are age 50 or older; contribution amounts apply to the 2015 tax year.