One factor that makes Schwab Intelligent Portfolios® unique among automated investment advisors is our inclusion of fundamentally weighted ETFs in the portfolios. And performance during 2016 provides a great demonstration of why we think they're important to have.
A fundamentally weighted ETF is based on a fundamental index, rather than a traditional market-cap index. Instead of ranking and weighting companies according to their market capitalization (stock price multiplied by the number of shares outstanding), a fundamental index ranks and weights companies according to measures such as sales, cash flow and dividends—factors that aren't linked with stock price. The result is an index that tends to emphasize undervalued companies and put less weight on companies that merely have high stock prices. Additionally, fundamental indexes are typically rebalanced periodically whereas market-cap indexes don't—and this periodic rebalancing has helped contribute to fundamental indexing's outperformance over the long term.
Fundamental indexing and market-cap indexing are complements
We believe that fundamentally weighted strategies can help enhance the diversification of investors' strategic long-term allocations, through both up and down markets. Fundamental and market-cap strategies can serve as complements within diversified portfolios because of their differences in construction, which can lead to meaningful differences in performance in different market environments and over time.
For example, the indexes tracked by the fundamentally weighted ETFs used in Schwab Intelligent Portfolios have outperformed their market-cap counterparts in 2016 by between 2 and 11 percentage points across the five equity asset classes where they're used in Schwab Intelligent Portfolios.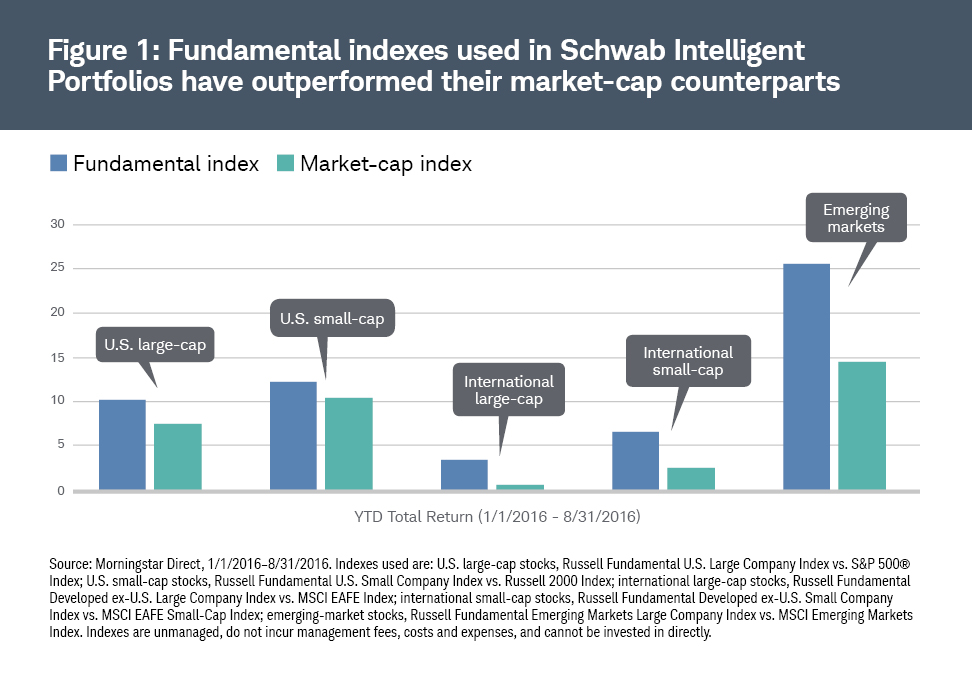 Of course, fundamental indexes don't always lead the pack. In fact, market-cap-weighted indexes led in 2015. By investing in ETFs based on both types of indexes, your portfolio has the potential to benefit from this added diversification.
Schwab Intelligent Portfolios has benefited from fundamental indexing in 2016
Schwab Intelligent Portfolios is built on a foundation of diversification, with up to 20 asset classes in any single portfolio. The potential benefits of this diversification are further enhanced within the major equity asset classes with the inclusion of both market-cap and fundamentally weighted ETFs.
Financial markets have gone through several periods of turbulence so far in 2016, but the diversification that fundamental indexing can deliver has helped to improve overall portfolio performance in this choppy environment.
David Koenig CFA®, FRM®, Vice President and Chief Investment Strategist for Schwab Intelligent Portfolios®