Retirement
January 31, 2017
You've worked a long time, you've saved a long time and now it's time to enjoy your retirement.
But cracking open a carefully tended nest egg can be more difficult than you might expect. After all, it's a pretty major change. When you've been working and saving toward a goal for years, it can feel strange to start taking money out of your account for the first time.
And it's not just an emotional challenge—it's an intellectual one as well. How do you know how much money you can safely withdraw each month? Will your savings last? How do you decide which assets to sell and which to hold on to? How much money do you really need?
If you're just starting retirement, your money probably has to last for 25 or 30 years—or even longer. Spend too much too fast, and you might run out of money early. Spend too little, and you might find yourself making unnecessary sacrifices.
Retirees aren't the only ones who have to think hard about how to turn their investments into cash. New parents on maternity or paternity leave, small business owners with irregular income and people who just want to put their careers on hold might also find themselves mulling over these questions.
The good news is Schwab Intelligent Portfolios® can help.
Schwab Intelligent Portfolios' income model
When you open a Schwab Intelligent Portfolios income-focused portfolio (by selecting "generate income for expenses" as your goal while answering the Investor Profile Questionnaire), we'll provide you with a portfolio to keep your savings invested and tools to help you decide how much money you might sustainably withdraw over time. You can also arrange to take monthly payments by automating your withdrawal plan.
For example, a 65-year-old with $500,000 in savings, a 25-year time frame and relatively high tolerance for risk could set up an account with a recommended portfolio that looks something like the following: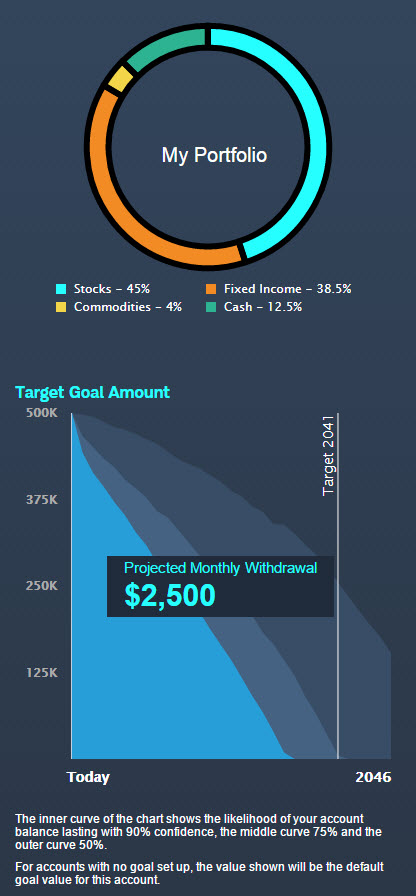 For illustrative purposes only. Not representative of any specific investment or account.
The circle at the top shows the asset allocation our hypothetical investor could use to keep her savings invested over a projected time frame. The chart beneath shows how much the investor could consider withdrawing each month, with projections for a range of market conditions.
The withdrawal estimate shown is based on Charles Schwab Investment Advisory Inc.'s current forecast for average market conditions over the 25-year time frame. If markets are better or worse than expected, that initial $500,000 investment could go well beyond the investor's target date or fall just as short.
Of course, this is just an initial estimate generated at the time the hypothetical investor opened the account. Markets are constantly moving and your spending plan can change unexpectedly. That's why we offer Goal Tracker to help you dynamically adjust your withdrawals and expectations as your situation evolves.
Using Goal Tracker to monitor your withdrawals
Once you've made your initial investment in an income-focused portfolio, you can use the Goal Tracker tool under the "Goal" tab on your account page to make sure your monthly withdrawal plans are in line with your objectives. Goal Tracker can help you keep tabs on your investments by notifying you whether your portfolio is "on target," "at risk" or "off target" based on current market conditions. (You can learn more about how Goal Tracker's estimates work here.)
You can also use the tool to see how changing your withdrawal amounts might affect your portfolio over time. Just click on the "edit" link and enter a new amount, and Schwab Intelligent Portfolios will tell you whether that amount could work with your plans. You can click "update profile" to revisit the Investor Profile Questionnaire and ensure your answers are consistent with your current risk tolerance and time horizon.
If you need to get back on target, you have plenty of options. You can extend or shorten your time horizon, increase or decrease your goal amount, increase or decrease your monthly contributions or distributions, or make a one-time contribution.
Automated withdrawals
Once you've settled on a withdrawal plan, you can automate your monthly payments by sending cash to either a Schwab account or an outside bank account using Schwab MoneyLink®. Schwab Intelligent Portfolios will draw the money from your cash allocation, and rebalance your account as needed by selling assets and replenishing your cash holdings.
Staying on track
It's worth noting: Because markets are always in flux, you should check your account regularly to make sure your withdrawals still make sense for your portfolio. If markets are weaker than expected over time, you could be taking out too much. If they're stronger than expected, you may consider taking out more.
Your portfolio is monitored daily to make sure your asset allocation remains consistent with your risk profile. We'll notify you if you need to make adjustments to your monthly withdrawal amount to help make your savings last. That way, instead of spending time worrying about your retirement, you can spend your time embracing it.
If you're not sure what to do, you can always call 855-694-5208 to speak with a Schwab investment professional who can help you think holistically about your financial situation.
How Schwab Intelligent Portfolios Can Help
You've spent years saving for retirement. Now what? Schwab Intelligent Portfolios offers a simpler solution to help make your savings last, while staying in line with your goals. Watch
our video
to learn more.
There is no guarantee the intended goal, or the duration of future withdrawals associated with those goals, will be reached.
In addition, the projections and other information you will see here about the likelihood of various outcomes are hypothetical in nature, do not reflect actual investment results, and are not guarantees of future results. The projections are based on estimates intended to be representative of the selected portfolio. The output of this tool may vary with each use and over time. The tool does not consider the specific securities or other assets held by you. This tool provides analysis based upon your inputs but makes additional assumptions detailed in the goal tracker whitepaper.
The information presented does not consider your particular investment objectives or financial situation and does not make personalized recommendations.
Investing involves risks, including loss of principal.

Schwab investment professionals are employees of Charles Schwab & Co., Inc.
(0117-TYK5)
---
Next Steps
---

Contact a Schwab investment professional to discuss your goals:

Call us at 855-694-5208