China's stock market has transformed in recent weeks from a rocket into a rock.
After soaring roughly 150% over the previous year, the Shanghai Stock Exchange Composite Index has dropped approximately 25% since June 12, 2015. On July 27, 2015, the index tumbled 8.5%, its biggest decline in eight years.
China's bull market has been fueled largely by Chinese retail investors borrowing on margin to buy shares, following highly optimistic comments and encouragement from the country's government. When highly leveraged investors began receiving margin calls on this debt, the rapid ascent in stock prices quickly began to reverse. Despite the Chinese government's efforts to prop up the market through interest rate cuts, direct share purchases and trading halts, Chinese stocks have remained highly volatile.
Keeping Chinese stock exposure in perspective
Given the volatility, you might be wondering how much exposure your Schwab Intelligent Portfolios® account has to Chinese stocks.
As you can see in the table below, the total weighting to Chinese stocks within Schwab Intelligent Portfolios is small across the risk spectrum. This exposure to Chinese stocks is mostly within the allocation to emerging market stock exchange-traded funds (ETFs), along with more limited exposure through international ETFs and a few U.S.-listed stocks that are headquartered in China.
Schwab Intelligent Portfolios has a relatively small exposure to Chinese stocks

| Portfolio | Emerging market stocks | China stocks |
| --- | --- | --- |
| Conservative | 1% | 0.2% |
| Moderate | 7% | 1.7% |
| Aggressive | 10% | 2.4% |
Portfolios are representative; Actual weightings in client portfolios can vary, and are subject to change with market conditions.
Source: Charles Schwab Investment Advisory, Inc., as of July 8, 2015.
It's also important to note that the emerging market ETFs within Schwab Intelligent Portfolios hold Chinese stocks as H shares (listed in Hong Kong) rather than A shares (listed in mainland China). H shares of Chinese stocks tend to be less volatile than A shares. The Hang Seng China Enterprises Index, which measures H shares, has declined about 18% since June 12, 2015, compared with the 25% decline for the Shanghai Composite Index, which measures A shares.
Fundamental indexing adds another layer of diversification
In addition to broad asset-class diversification, Schwab Intelligent Portfolios provides another layer of diversification by using both fundamentally weighted and market cap-weighted ETFs for the major stock asset classes. Both types of ETFs behave differently in different market conditions since the indexes they're designed to track are constructed differently.
Essentially, in a market cap-weighted index like the S&P 500® Index, companies with the largest market capitalization hold the largest stock positions. Fundamentally weighted indexes, on the other hand, base their weightings on objective financial measures, such as companies' sales, cash flow or dividends.
In a market cap-weighted index, stocks that experience rapid price gains can grow in weighting simply because of investor sentiment, even if the companies are not generating more revenue or profits. By contrast, in a fundamentally weighted index, weighting increases are tied to improving fundamentals rather than investor sentiment. Fundamentally weighted indexes also tend to have more stable weightings over time because they're rebalanced periodically back to these non-price measures. As you can see below, the weighting to China in the Schwab Emerging Markets Equity ETF (a market cap-weighted index fund) rose 5.1 percentage points from December 2014 to June 2015, as prices for Chinese stocks soared. The weighting to China in the Schwab Fundamental Emerging Markets Large Company ETF remained fairly stable, declining just 0.7 percentage points in the same period.
Weighting to China has risen in the market cap-weighted ETF, but has been relatively stable in the fundamental index ETF.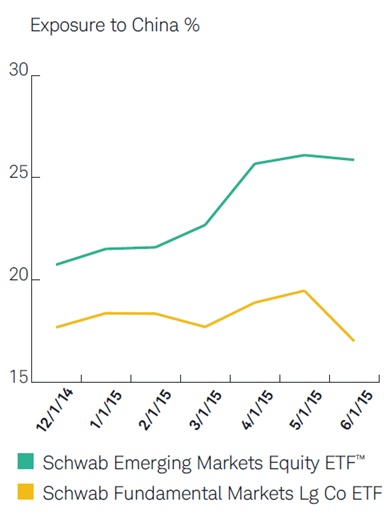 The ETFs shown should not be considered a recommendation of any security. Weightings are subject to change.
Source: Morningstar Direct, as of June 30, 2015.
Balancing risk-and-return potential with emerging market stocks
Despite recent volatility, including emerging market stocks within an investment portfolio can provide an important source of return and diversification, due to lower correlations relative to other asset classes. However, higher expected returns and higher volatility go hand in hand, so emerging market stocks typically represent smaller allocations within a portfolio than the generally more stable sources of equity returns, such as U.S. large-cap stocks. Within Schwab Intelligent Portfolios, exposure to Chinese stocks is relatively small, seeking to balance this potential risk and return.
David Koenig, CFA®, FRM®, Vice President and Chief Investment Strategist for Schwab Intelligent Portfolios®