The phrase "as good as gold" is a cliché for a reason. Gold is considered by many to be the ultimate store of value because of its limited supply compared with paper currencies, which can depreciate due to inflation as governments print more currency.
But does it make sense for individuals to invest in physical gold? After all, gold doesn't pay dividends or interest as do stocks and bonds. Other than being used for jewelry, it has less of the industrial productive value of other metals. Instead, its worth is determined primarily by supply and demand, which tends to give it a high level of volatility and risk. Like other commodity-related products, gold is not suitable for all investors.
However, history shows that gold has several notable qualities that can make it a valuable component of a well-diversified portfolio, including:
Defensive properties
Diversification
As a potential hedge against inflation
Gold can shine in turbulent times
During times of economic stress and financial market turmoil, gold has historically provided defensive benefits. The recent financial market volatility has helped to highlight the value of investing in gold as part of a diversified portfolio, as shown in Figure 1.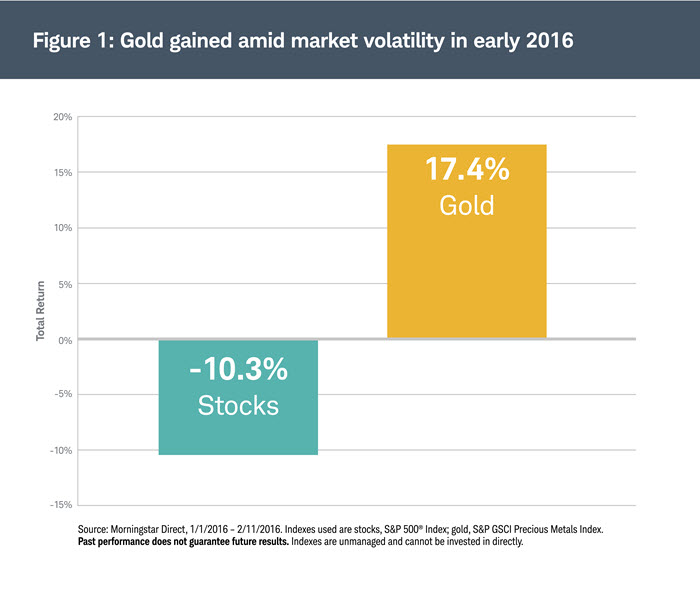 Enhancing diversification and potentially improving performance
Because gold tends not to move in lockstep with stocks, it can enhance the diversification of a portfolio. The correlation of stocks and gold has historically been zero or slightly negative over most time periods, meaning that the price movement of each has tended to be relatively independent of the other. By including both asset classes in a portfolio, this diversification can help reduce portfolio volatility and potentially enhance returns over time.
As Figure 2 shows, gold had a higher annualized return over the 10-year period, but that came with higher volatility than stocks. Notably, however, the portfolio that included a small allocation to gold along with stocks had a modestly higher return but lower volatility, due to the low correlation between stocks and gold, producing a higher ending value.
Figure 2: A small allocation to gold helped improve performance vs. stocks alone

| | | | |
| --- | --- | --- | --- |
| | Total return (annualized) | Volatility (annualized) | Growth of $100,000 |
| 95% stocks + 5% gold | 6.2% | 23.7% | $183,000 |
| Gold | 7.2% | 26.1% | $201,000 |
| Stocks | 6.0% | 25.1% | $179,000 |
Source: Morningstar Direct, 2/12/2006 – 2/11/2016. Indexes used are stocks, S&P 500 Index; gold, S&P GSCI Precious Metals Index. The hypothetical portfolio was rebalanced annually and consists of 95% stocks and 5% gold. For illustrative purposes only. Not representative of any specific investment or account.
Helping protect against inflation
While inflation hasn't been near the top of the list of potential concerns for investors in recent years, it can corrode investor wealth over time and has historically presented a meaningful risk. For example, in the 1970s and 1980s, annual inflation rates reached double-digit levels.
Gold and cash are among asset classes that tend to be more highly correlated with inflation, which means that their price has historically tended to rise along with inflation. And while most forecasts don't call for inflation to return to 1970s levels anytime soon, including asset classes that can help to protect against unexpected increases in inflation can play an important role in a diversified portfolio.
Gold has played its intended role in Schwab Intelligent Portfolios®
Within Schwab Intelligent Portfolios, the allocation to gold ranges from 0% to approximately 6%, depending on an investor's risk profile. This is one possible component of a globally diversified ETF portfolio, which may include up to 20 asset classes plus an FDIC-insured cash allocation. The merits of including this type of modest allocation to gold in a well-diversified portfolio have been underscored by its strong returns amid the financial market turbulence so far in 2016.
By David Koenig, CFA®, FRM®, Vice President and Chief Investment Strategist for Schwab Intelligent Portfolios®