To help evaluate whether you'll have the money to maintain your desired standard of living in retirement, here's a quick overview.
1. How much will you need every year?
While some expenses may go down after you've retired (mortgage, career-related expenses), others may go up (travel, healthcare). To be on the safe side, assume you'll need about the same annual income minus what you're saving for retirement.
2. How much income will come from your portfolio versus other sources?
Once you determine how much you'll spend in retirement each year, compare it to the amount you'll receive from Social Security, pensions, rentals or other regular income sources. If you, like most retirees, find that your non-portfolio income won't cover your spending, your portfolio will need to generate the difference. After all, that's what you saved for!

3. How much should you estimate you need to save in order to support that yearly income?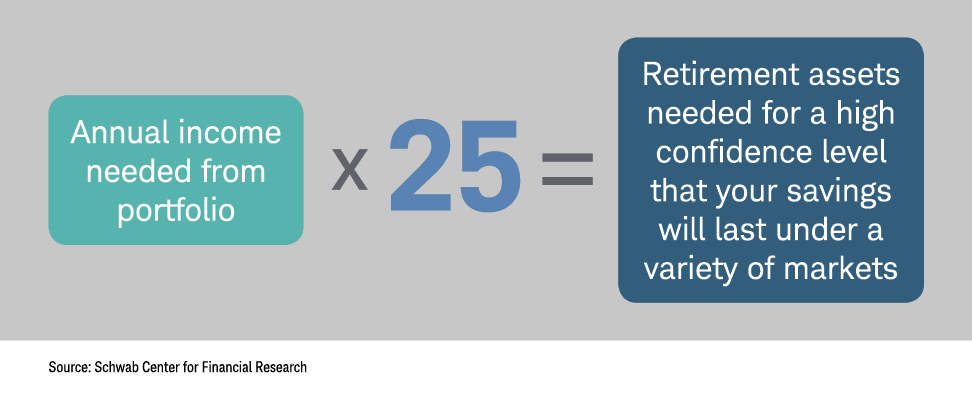 If your portfolio is roughly 25 times the amount you withdraw in the first year of retirement, you can feel confident that your savings will last 30 years, assuming you give yourself a pay raise every year with inflation and don't make other adjustments.1
4. Adjust as necessary
If you find that your current vision for retirement is not in sync with your savings, you have a few options. For instance, you might:
Retire later
Spend less
Work part time in retirement
How Schwab Intelligent Portfolios® Goal Tracker Can Help
Goal Tracker can help you set up an income goal and monitor your progress. Log into your Schwab Intelligent Portfolios account and click on the Goal tab to access Goal Tracker.
1. Schwab Center for Financial Research. The information provided here is for informational purposes only based on general guidelines for income distribution, and should not be considered an individualized recommendation. It is recommended that investors use a retirement plan calculator with Monte Carlo simulations for a more refined, customized estimate.