A recent increase in market volatility has led to understandable anxiety for investors. But it's important to step back during these periods of turbulence to put them in perspective. Your perception about the level of recent volatility depends greatly on your frame of reference—whether you're viewing from the valley of below-average volatility over the past few years or from the peaks of truly unprecedented volatility of late 2008.
Market volatility has risen but is far from previous highs
To put the recent volatility into context, we compared the daily price movement of U.S. stocks in 2018 with two previous periods of elevated volatility: August – September 2015, when the U.S. equity market saw a correction in response to fears about China and global economic growth; and September – October 2008, the height of the financial crisis.
As Figure 1 illustrates, recent volatility has reached similar levels as in 2015, but it remains far below the levels reached in 2008. While the S&P 500® Index saw a single-day decline of 4.1% in February 2018, the index saw swings of as much as +/- 10% on single days in 2008.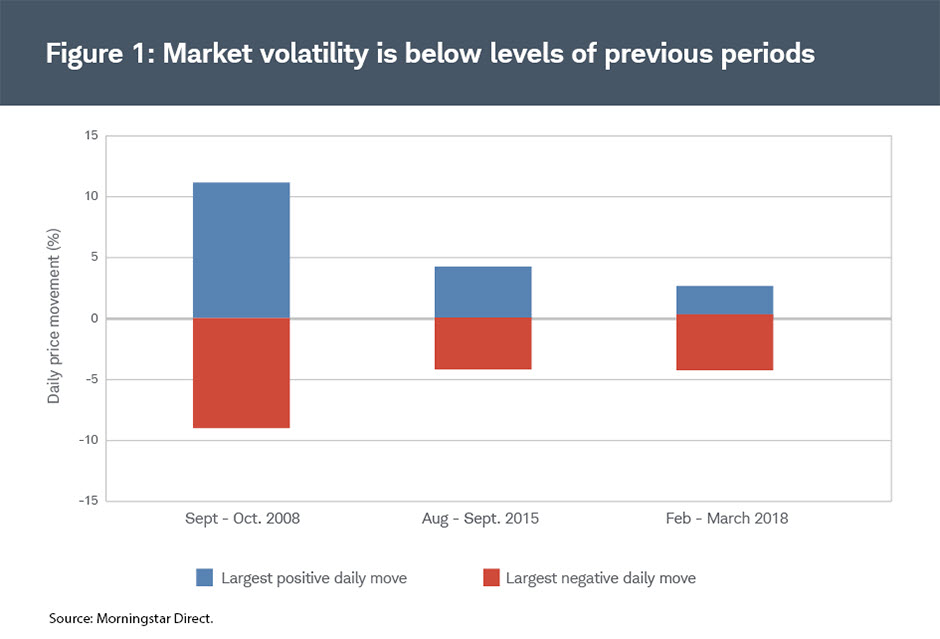 Stocks have seen fewer large daily moves than in previous periods
Figure 2 further illustrates that the large moves for U.S. stocks have also been less frequent than in previous periods shown. The S&P 500 Index saw a daily price change of at least 2% on 6 trading days in February – March 2018 in comparison to 8 trading days in August – September 2015, and a whopping 24 days in September – October 2008.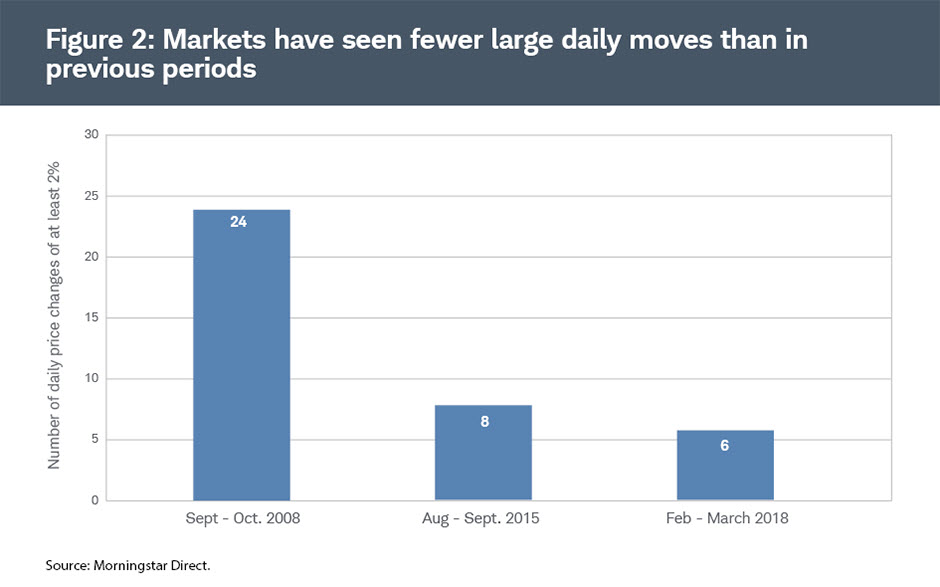 Current market volatility has risen back to its long-term average
As Figure 3 illustrates, the rolling 12-month volatility of the S&P 500 Index rose to 13.4% in March 2018 from historical lows in 2017. While volatility has returned to its average level of the past 20 years, it remains a bit below levels reached in 2015 – 2016 and well below the 30% level reached during the financial crisis.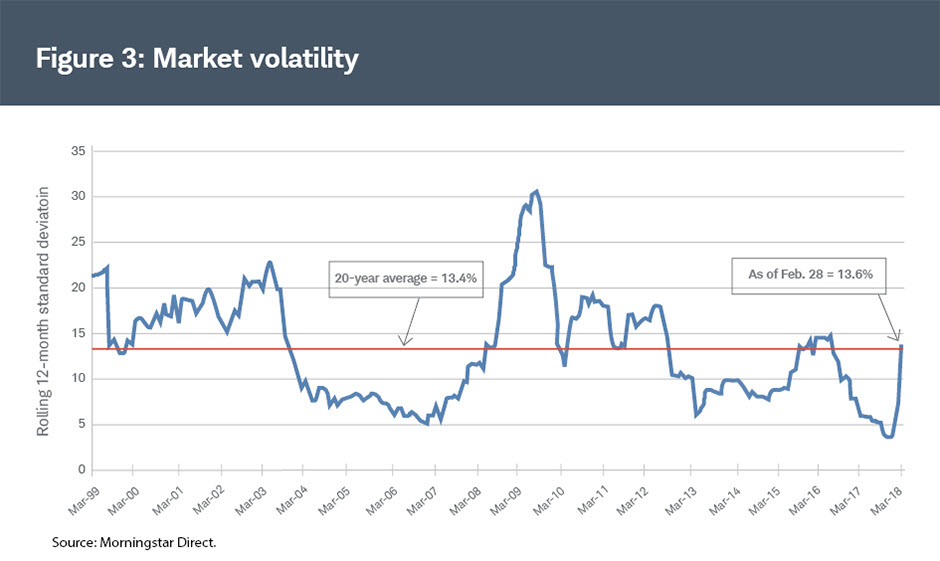 Having a strategic plan and sticking to it is key to investment success
While market volatility has risen in 2018 following one of their least volatile years on record in 2017, it's important to remember that periods of market turbulence inevitably occur from time to time. This is why having a strategic asset allocation plan (and sticking to it) is one of the most important elements of long-term investment success.
If the recent volatility has resulted in sleepless nights or the temptation to sell your investments, perhaps you've assumed that you had a higher risk tolerance than truly matches your risk profile. These periods can be a good time to re-examine your goals, time horizon, and risk profile to make sure that you're invested in a portfolio that can help you work towards your longer-term goals, without panicking during periods of short-term market turbulence.
By David Koenig, CFA, FRM, Chief Investment Strategist, Charles Schwab & Co.