Key Themes
Following a rocky start to the year, financial markets rebounded as fears of recession eased later in Q1.
U.S. stocks have returned to positive territory for 2016 following their second market correction in less than a year.
Beaten-down asset classes, such as emerging markets stocks and high-yield bonds, were among top performers.
Defensive asset classes, such as gold and cash, helped moderate portfolio declines during the market correction.
New performance tracking tools for Schwab Intelligent Portfolios® offer you more insight into your portfolio's performance.
How did financial markets do in Q1?
The first quarter of 2016 was anything but boring. Fears of potential recession during the first weeks of the year caused U.S. stocks to fall more than 10% in their second correction in less than 12 months. By quarter-end, U.S. stocks had bounced off their lows back into positive territory and recession fears had faded. Despite all of the volatility, the S&P 500® Index ended the quarter near where it began, with a gain of 1.3% including dividends, as illustrated in Figure 1.
Quarters like these highlight the potential benefit of the sophisticated global diversification of Schwab Intelligent Portfolios. Most asset classes posted strongly positive returns in March—so it was beneficial to be invested in a wide range. Two standouts were emerging markets stocks and high-yield bonds, boosted by stronger oil prices and a slightly weaker dollar.
Notably, defensive asset classes such as cash and gold played their intended role during the market correction, helping to offset declines among stocks. Cash provided stability, while gold and other precious metals advanced strongly—ending the quarter as the top-performing asset class, with a gain of 16%. This underscores why we include these asset classes within Schwab Intelligent Portfolios.
Figure 1: Market performance (ranked by Q1 2016 total return)
Total returns (%)
Asset class
Jan
Feb
Mar
Q1
Gold and other precious metals
5.1
10.0
0.4
16.0
International REITs
-2.7
3.3
8.1
8.6
International bonds
0.5
3.5
4.1
8.3
Emerging markets stocks
-6.5
-0.2
13.2
5.7
High-yield bonds
-1.5
0.8
4.5
3.7
U.S. Treasury bonds
2.1
0.6
0.3
2.9
U.S. large cap stocks
-5.0
-0.1
6.8
1.3
Cash
0.01
0.03
0.04
0.07
Total returns (%)
Asset class
Jan
Feb
Mar
Q1
U.S. small cap stocks
-8.8
0.0
8.0
-1.5
International large cap stocks
-7.2
-1.8
6.5
-3.0
Source: Morningstar Direct, as of March 31, 2016. Performance figures shown are total returns for each asset class during the designated period. Indexes used are gold and other precious metals, S&P GSCI Precious metals index; international real estate investment trusts (REITs), S&P Global ex-U.S. REIT Index; international bonds, Barclays Global Aggregate ex-USD Index; emerging markets stocks, MSCI Emerging Markets Index; high yield bonds, Barclays U.S. Corporate High Yield Index; U.S. Treasury bonds, Barclays U.S. Treasury 3–7 Year Index; U.S. large cap stocks, S&P 500® Index; cash, Barclays Short Treasury 1–3 Month Index; U.S. small cap stocks, Russell 2000® Index; international large cap stocks, MSCI EAFE Index. Past performance does not guarantee future results. Indexes are unmanaged and cannot be invested in directly.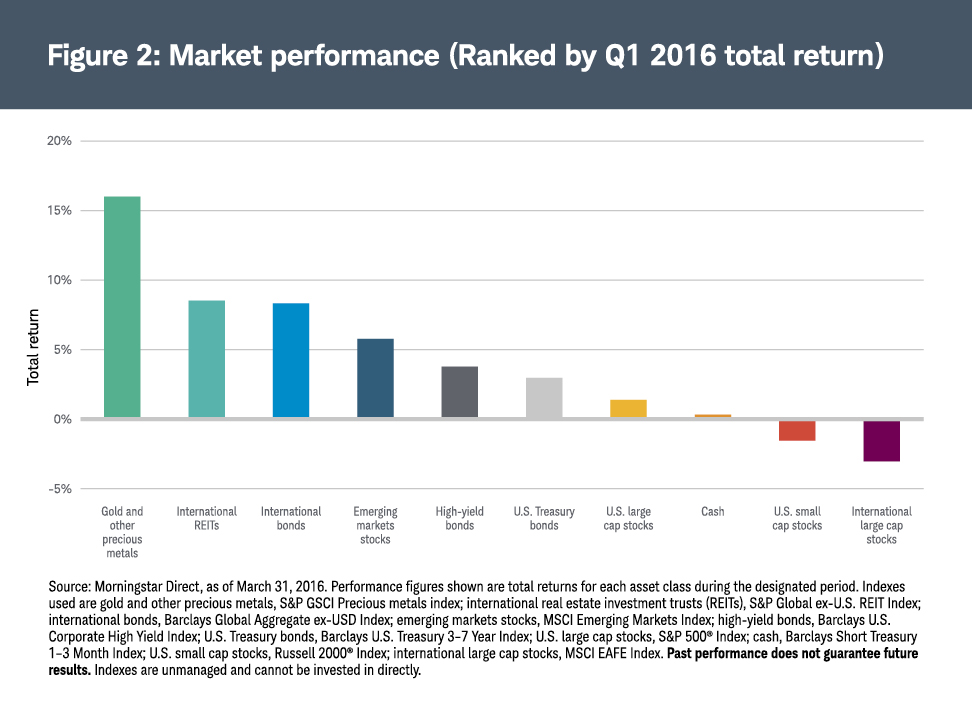 Fundamental indexing outperformed during Q1
A unique feature of Schwab Intelligent Portfolios is our inclusion of both market cap and fundamentally weighted ETFs for the five major equity asset classes. Different market environments tend to favor each of these forms of index investing, so we believe that it's useful to have both in your portfolio.
As illustrated in Figure 3, fundamental indexing outperformed its market cap counterpart by one to seven percentage points in each asset class, helping to improve overall portfolio performance during the quarter. For more information about how fundamental indexing works, see the articles "In a Volatile Start to 2016, Fundamental Indexes Proved Their Value" and "Fundamentally Weighted ETFs Add Value While Keeping Investor Costs Low."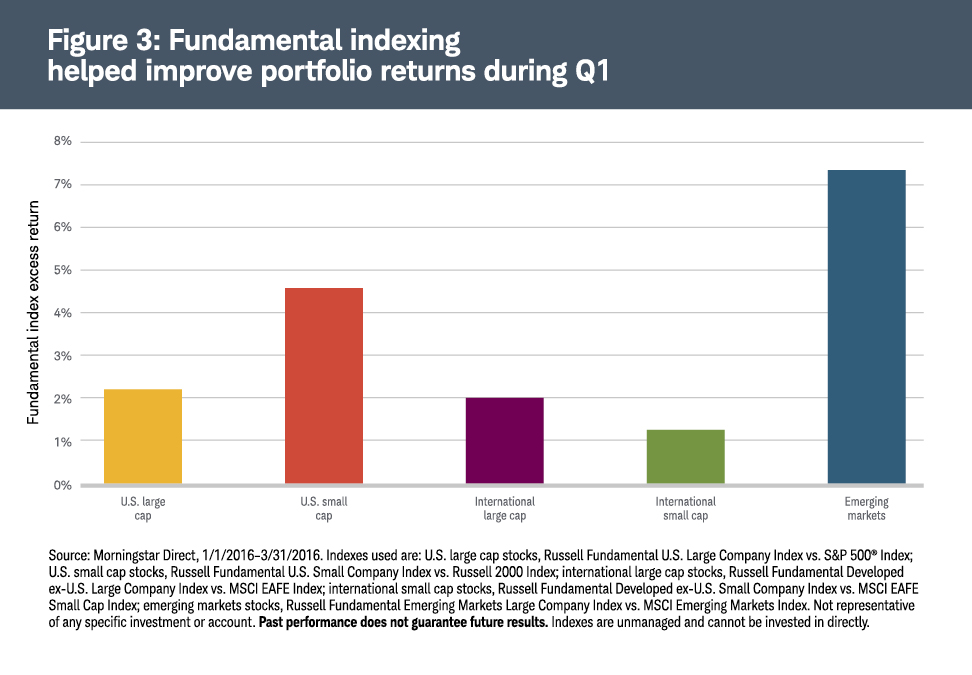 How did Schwab Intelligent Portfolios do?
Strong performance across asset classes in March generated positive returns for portfolios across the risk spectrum during Q1. Moderately aggressive portfolios fared best due to higher weightings to stocks, gold and other precious metals, and high yield bonds. By contrast, more conservative portfolios' higher allocations to a variety of bonds and cash helped cushion their fall during the volatility early in the quarter while delivering moderately smaller, though still positive, gains for the full quarter.
Because some asset classes are more volatile than other asset classes, determining how much volatility you can withstand in your portfolio is key to helping you stay focused on your longer-term goals during inevitable periods of turbulence. Whether you are invested in a more conservative or more aggressive portfolio is based on your answers to the Investor Profile Questionnaire, which asks you about your investment objective, time horizon and risk tolerance. Your individual portfolio's performance can be viewed at any time by logging in at www.intelligent.schwab.com.
New tools for monitoring portfolio performance
Our goal at Schwab Intelligent Portfolios is to provide you with a range of tools for understanding your portfolio's performance. During the first quarter, we introduced a new feature on the Performance section of the website that lets you compare your portfolio's performance with up to five different market indices at a time.
This can help you understand which asset classes have been leading or lagging at any given time. But an even more meaningful measure is to track your progress toward a specific investment goal. Our Goal Tracker feature gives you another powerful tool for tracking performance, allowing you to set a savings goal or an income goal and then monitor your progress over time.
Looking ahead to Q2
As we move into the second quarter of 2016, financial markets have become less turbulent, but risks remain: Economic data could weaken; the U.S. dollar may strengthen; oil prices may fall again; the Fed may adjust the pace of rate hikes; and so on.
Remember that markets are volatile by nature. Having a financial plan and staying focused on your goals through the inevitable periods of turbulence are among the keys to longer-term investment success. Through broad diversification, with up to 20 asset classes in any single portfolio, and automated rebalancing, tax-loss harvesting and goal tracking, Schwab Intelligent Portfolios uses the power of technology to make investing more efficient for you. We look forward to continuing to work with you on your journey toward reaching your financial goals.
By David Koenig CFA®, FRM®, Vice President and Chief Investment Strategist for Schwab Intelligent Portfolios®
1. This quarterly commentary is designed to provide you with insight into the market environment during the quarter. How your portfolio performed is dependent upon your asset allocation across the risk spectrum from conservative to aggressive, as well as criteria such as when you opened your account, the timing of any deposits/withdrawals, timing of portfolio rebalances, whether you are enrolled in tax-loss harvesting and other criteria.