Key Themes
Major stock markets delivered their strongest quarterly performance so far in 2016.1
Global diversification benefited investors as international investments were among the strongest performers during Q3.
Diversification across non-traditional asset classes, such high-yield bonds and emerging market debt, benefited investors during Q3 and YTD.
Fundamental indexing continues to outperform market-cap indexing YTD in 2016.
Positive performance across asset classes YTD in 2016, despite brief periods of turbulence, underscores the importance of staying focused on your long-term plan.
How did financial markets do in Q3?
The third quarter brought the strongest quarterly financial market performance so far in 2016. Stocks rallied as the Fed held off on raising rates during the quarter, and the initial shock of the Brexit vote eased when it became evident than any economic effects would likely be long-term in nature. During the quarter, the S&P 500® Index set its first new all-time high in more than a year amid expectations for stronger economic growth in Q4.
Asset classes that tend to perform better amid improving economic conditions led during the quarter. Among stocks, U.S. small-cap and emerging markets were the top performers, each advancing approximately 9.0%, as shown in Figure 1. Similarly, within fixed income, high-yield bonds (+5.4%) and emerging market debt (+3.1%) did best. International developed-market stocks, both large- and small-cap, were also among the strongest performers during the quarter.
Asset classes with weak performance during Q3 were those that tend to be more interest-rate sensitive, such as real estate investment trusts (–1.3%) and Treasury bonds (–0.3%). While the Fed held off on raising rates during the quarter, a potential rate hike by year-end appeared possible. This is among the reasons we include a mix of different types of fixed income asset classes within Schwab Intelligent Portfolios. Investments such as high-yield bonds and emerging market debt add diversification and tend to be less interest-rate sensitive.
Figure 1: Market performance (ranked by Q3 2016 total return)
Total returns (%)
Asset class
July
Aug
Sept
Q3
U.S small-cap stocks
6.0
1.8
1.1
9.0
Emerging market stocks
5.0
2.5
1.3
9.0
International small-cap stocks
6.1
-0.6
3.0
8.6
International large-cap stocks
5.1
0.1
1.2
6.4
High-yield bonds
2.6
2.2
0.5
5.4
U.S. large-cap stocks
3.7
0.1
0.0
3.8
Emerging market debt
1.6
0.2
1.4
3.1
Investment-grade corporate bonds
1.5
0.2
-0.2
1.4
Source: Morningstar Direct, as of Sept. 30, 2016. Performance figures shown are total returns for each asset class during the designated period. See disclosures for indexes used. Past performance does not guarantee future results. Indexes are unmanaged and cannot be invested in directly.
Schwab Intelligent Portfolios diversification benefited investors YTD
The broad diversification of Schwab Intelligent Portfolios—which includes less traditional asset classes, such as gold and high-yield bonds—has benefited investors in 2016. While these types of asset classes represent relatively small portions of many of the portfolios within Schwab Intelligent Portfolios, they add diversification and have delivered strong YTD performance.
All asset classes included within Schwab Intelligent Portfolios have delivered positive returns so far in 2016, but some have done better than others. International developed-market large-cap stocks were among the strongest performers during Q3, but were one of the weakest YTD. This shift in performance leadership underscores why we take a global investing approach. Top performers tend to cycle across different regions and sectors over time, so a well-diversified global portfolio helps ensure that you have exposure to whichever asset classes are performing best at any given time, while not being overly concentrated in those that might be underperforming.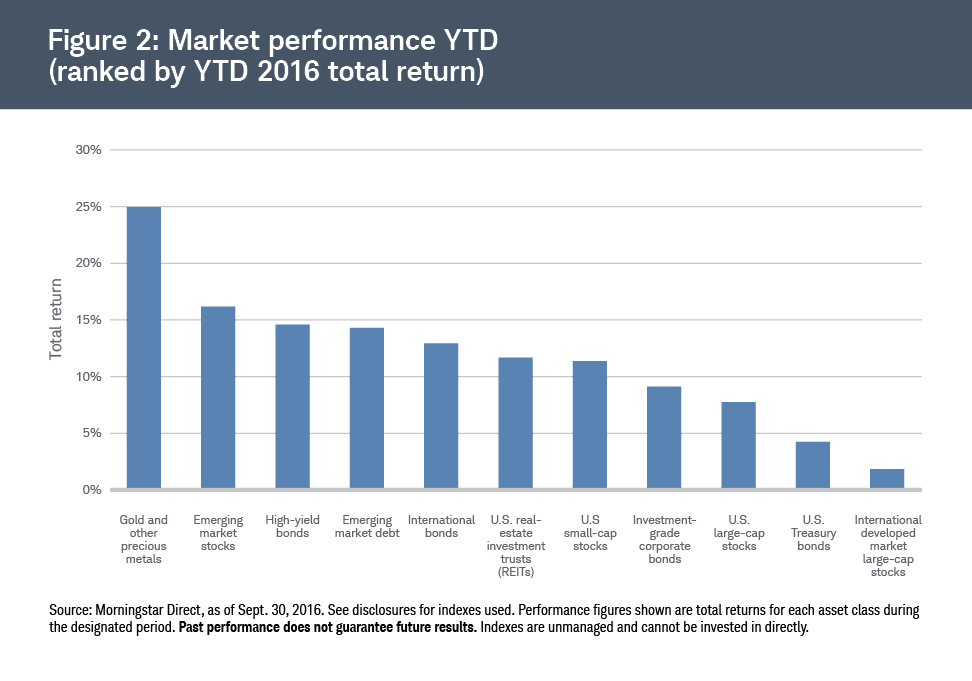 Fundamental indexing continues to lead market-cap indexing in 2016
Performance leadership between fundamental indexing and market-cap indexing was mixed during Q3, with market-cap indexing leading in three of the five major stock asset classes.2 For the YTD period, however, fundamental indexing remains ahead across all five asset classes—ranging from between 1 and 11 percentage points—as shown in Figure 3. Outperformance continues to be strongest in emerging market stocks where fundamental indexing ended the quarter up 27.6% YTD, compared with 16.0% for its market-cap counterpart.
The inclusion of both market-cap and fundamentally weighted ETFs is a unique feature of Schwab Intelligent Portfolios. The way that different market environments tend to favor each of these forms of index investing has been evident in 2016, validating our belief that investing in both can help to enhance the diversification benefits within your portfolio.
How did Schwab Intelligent Portfolios do?
All portfolios across the risk spectrum delivered positive returns for Q3 and YTD in 2016. During Q3, more aggressive portfolios had the strongest performance due to larger weightings to the strongest performing asset classes, such as U.S. small-cap stocks and emerging market stocks. For the YTD period, moderately aggressive portfolios tended to do best, benefiting from broader diversification beyond stocks to include asset classes such as gold and other precious metals, emerging market bonds and high-yield bonds. These asset classes have added diversification to portfolios that include them, and held up better than stocks during periods of stock market turbulence.
Looking ahead to Q4
Moving into the fourth quarter of 2016, financial market volatility could increase amid continued uncertainty about the timing of the next Fed interest rate hike, the outcome of the contentious presidential election, the strength of corporate earnings and overall economic growth. Schwab's view continues to be that the bull market that began in 2009 remains intact. However, recent economic indicators have been mixed and have increased potential risks.
Throughout the first nine months of 2016, financial markets have encountered several periods of turbulence followed by strong rebounds. These periods of volatility have helped to remind that markets are volatile by nature, so it's important to have a financial plan based on your objectives and risk tolerance that can help you navigate through these inevitable rocky periods, while staying focused on your goals.
How Schwab Intelligent Portfolios Can Help
With up to 20 asset classes in any single portfolio, and automated rebalancing, tax-loss harvesting and goal tracking, Schwab Intelligent Portfolios is designed to recommend a diversified portfolio consistent with your risk profile and manage your portfolio with discipline to help keep you on track toward reaching your financial goals.
1. This quarterly commentary is designed to provide you with insight into the market environment during the quarter. How your portfolio performed is dependent upon your asset allocation across the risk spectrum from conservative to aggressive, as well as criteria such as when you opened your account, the timing of any deposits/withdrawals, timing of portfolio rebalances, whether you are enrolled in tax-loss harvesting and other criteria.
2. As an additional layer of diversification, Schwab Intelligent Portfolios splits the allocation between a market-cap weighted ETF and a fundamentally weighted ETF for the five major equity asset classes: U.S. large-cap stocks, U.S. small-cap stocks, international large-cap stocks, international small-cap stocks and emerging market stocks. For more information on fundamental indexing, click here.