Key Themes
Financial markets faced numerous headwinds in 2015, including turmoil in emerging markets, plunging oil prices, a strengthening dollar and anxiety about the timing of a U.S. interest rate increase.
In spite of these challenges, U.S. stocks advanced strongly during Q4 and ended the year with a slightly positive total return for 2015.
International investments improved during Q4, but the rapidly appreciating U.S. dollar dampened performance throughout 2015.
With relatively few bright spots in asset-class performance, portfolios that were concentrated in better performers (such as U.S. large-cap stocks and core bonds) tended to fare better than more diversified portfolios.
While diversified portfolios faced headwinds in 2015, investors in Schwab Intelligent Portfolios® generally benefited from exposure to non-traditional asset classes such as international small-cap stocks and real estate investment trusts (REITs).
How did financial markets do in Q4?
Like an extended New Year's Eve party, the fourth quarter started with a pop as financial markets surged higher in October and ended a bit wobbly as the Fed moved to begin taking away the "punch bowl" with its first interest rate hike in nearly a decade. Rather than the typical "Santa Claus rally" that often arrives during the final days of the year, December brought more volatility to end a highly volatile year.
Most asset classes still managed moderately positive returns for the fourth quarter. U.S. stocks rose 7.0% in their strongest quarter in two years (see Figure 1). For all of 2015, they ended up just 1.4%, including dividends, near where they began despite all of the ups and downs along the way (see Figure 2).
Figure 1: Market Performance (Ranked by Q4 2015 total return)

| | | | | |
| --- | --- | --- | --- | --- |
| Asset Class | Oct | Nov | Dec | Q4 |
| Real estate investment trusts (REITs) | 5.6 | -0.6 | 1.8 | 7.0 |
| International small-cap stocks | 6.0 | 0.0 | 0.1 | 6.8 |
| U.S. small-cap stocks | 5.6 | 3.2 | -5.0 | 3.6 |
| International large-cap stocks | 7.8 | -1.6 | -1.4 | 4.7 |
| Emerging markets stocks | 7.1 | -3.9 | -2.2 | 0.7 |
| Cash | 0.0 | 0.0 | 0.01 | 0.01 |
| Treasury bonds | -0.5 | -0.4 | -0.2 | -1.1 |
| High-yield bonds | 2.8 | -2.2 | -2.5 | -2.1 |
Source: Morningstar Direct, as of December 31, 2015. Performance figures shown are total returns for each asset class during the designated period. Indexes used are U.S. large-cap stocks, S&P 500® Index; U.S. real estate investment trusts, S&P United States REIT Index; international small-cap stocks, MSCI EAFE Small Cap Index; U.S. small-cap stocks, Russell 2000® Index; international large-cap stocks, MSCI EAFE Index; emerging markets stocks, MSCI Emerging Markets Index; cash, Barclays Short Treasury 1–3 Month Index; U.S. Treasury bonds, Barclays U.S. Treasury 3–7 Year Index; high-yield bonds, Barclays U.S. Corporate High Yield Index. Past performance does not guarantee future results. Indexes are unmanaged and cannot be invested in directly.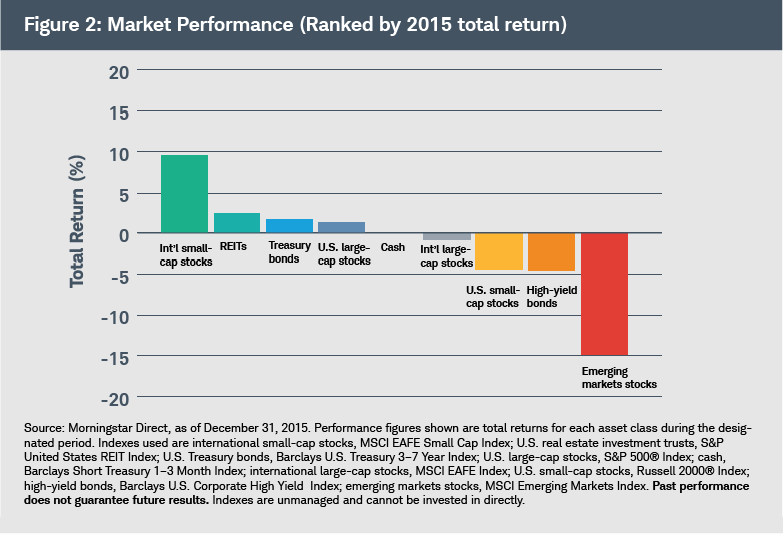 Markets faced numerous headwinds throughout 2015
An economic slowdown in China, plunging commodities prices, a strengthening U.S. dollar and anxiety over a potential hike in U.S. interest rates combined to create challenging conditions for financial markets.
International markets had a particularly difficult year, with emerging markets the hardest hit. News of China's economic slowdown raised worries about global growth and helped to depress commodities, which in turn hurt emerging-market countries whose economies are closely linked to commodity prices. Additionally, the rapidly appreciating dollar hurt international investments in general, because returns were dampened when foreign currencies were translated back into dollars.
There were a few bright spots, however. International small-cap stocks and REITs were among the strongest performers for the quarter and the year. And cash played its intended role of providing ballast throughout a highly volatile year. This illustrates the potential benefits of the diversified investment approach of Schwab Intelligent Portfolios, which provides access to a range of asset classes that haven't always been well represented in individual investor portfolios.
Anticipation of rising interest rates pressured bonds
Most bond market segments posted relatively weak returns for the quarter and the year as investors braced for rising interest rates. High-yield bonds came under additional pressure when energy-related companies that often issue such bonds were hurt by the rapid decline in oil prices.
Although the Fed expects to continue raising rates in 2016, the pace of increases is expected to be slower than in recent tightening cycles. Historically, "low and slow" increases have been more supportive of financial markets. And bonds can still provide diversification and income within a diversified portfolio.
Return differences narrowed dramatically within and across asset classes
A major challenge for investors over the course of Q4 and 2015 was a dramatic narrowing in market performance within and across asset classes, where fewer securities or asset classes participated in driving returns substantially higher or lower.
For example, the S&P 500® Index's slight gain of 1.4% for the year came from just a few large-cap stocks. In fact, the 10 largest stocks rose approximately 17% in 2015 while the rest of the index declined about 5%, according to Strategas Research Partners.
Additionally, in looking at returns across asset classes, 20 of the 28 asset classes within Schwab Intelligent Portfolios gained or lost less than 5% for the year. With less differentiation, portfolios that were more concentrated in U.S. large-cap stocks and core bonds, which had moderately positive returns for the year, tended to do better than more diversified portfolios that held asset classes such as emerging markets stocks, which had significant declines. That narrowness in performance is not always the case, however, and diversification across asset classes and geographies has the potential to benefit investors over longer periods.
How did Schwab Intelligent Portfolios do?
Strong performance across asset classes during October generated positive returns for portfolios across the risk spectrum during Q4. The most aggressive portfolios did best due to higher weightings to stocks, which surged in the wake of the summer's volatility. The most conservative portfolios had the smallest gains, benefiting less from the strong gains among stocks.
For the year overall, however, the distribution of returns was reversed.2 As would be expected in a volatile year with relatively weak returns across most asset classes, returns were moderately negative across the risk spectrum. The most conservative portfolios did better than the most aggressive portfolios due to smaller exposure to the weakest performing asset classes such as emerging markets stocks and greater exposure to the generally more stable bonds and cash.
Whether you are invested in a more conservative or more aggressive portfolio is based on the risk profile information that you provided about your investment objective, time horizon and risk tolerance. You can view your individual portfolio's performance at any time by logging into your account here.
The importance of global diversification
The headwinds that roiled financial markets in 2015 made it a difficult year for broadly diversified portfolios. However, it's important to remember that different asset classes tend to lead or lag in performance from year to year. For example, emerging markets stocks was one of the weakest asset classes in 2015 but one of the top performers in 2012. Over time, various asset classes have historically moved from top to bottom performers and back again, with no discernable pattern. A well-diversified portfolio is designed to benefit from exposure to the strongest performers while avoiding overconcentration in the weakest performers.
Schwab Intelligent Portfolios is deliberately designed to diversify across a broader set of risk and return drivers, including up to 20 asset classes in a single portfolio, to help smooth the distribution of returns over time. The role of each asset class within Schwab Intelligent Portfolios is described in detail in the white paper "Guide to Asset Classes & ETFs."
Looking ahead to 2016
Years like 2015 are challenging. And while markets may remain volatile in 2016 as the Fed gradually raises interest rates, investors have historically benefited from staying diversified in that type of environment. Markets are volatile by nature. Sticking to a strategic investment plan through the inevitable periods of turbulence, along with disciplined rebalancing and tax loss harvesting, can help improve your chances of long-term investment success.
David Koenig CFA®, FRM®, Vice President and Chief Investment Strategist for Schwab Intelligent Portfolios®
1. This quarterly commentary is designed to provide you with insight into the market environment during the quarter. How your portfolio performed is dependent upon your asset allocation across the risk spectrum from conservative to aggressive, as well as criteria such as when you opened your account, the timing of any deposits/withdrawals, timing of portfolio rebalances, whether you are enrolled in tax-loss harvesting and other criteria.
2. Schwab Intelligent Portfolios launched on March 9, 2015.