Key Themes
Stocks rose sharply during Q4 while a spike in interest rates hurt bonds. For 2016, most asset classes delivered positive returns.
Fundamental indexing significantly boosted performance in both Q4 and 2016.
Diversification into less traditional asset classes such as small-cap stocks and high-yield bonds benefited investors during Q4 and 2016.
International investments detracted during Q4 but contributed strongly to 2016 performance, particularly in regard to emerging markets.
How did financial markets do in Q4 and 2016?
Throughout 2016, financial markets reminded us of their fondness for surprises. How many can say they predicted the U.S. stock market correction that began the year, or the series of new all-time highs later in the year? Or the result of the Brexit vote in June? Or the outcome of the U.S. presidential election and ensuing stock rally?
This propensity for unpredictability underscores the benefits of investing in a diversified portfolio consistent with your goals and risk tolerance. Rather than trying to time markets and guess how different investments might respond to various events, investing across a mix of stocks, bonds, commodities and cash helps provide that you're invested in the top performers while not being overly concentrated in the bottom performers at any given time. This can help you ignore the short-term noise and stay focused on your longer-term goals.
Fourth quarter sees stocks surge, bonds fall
The fourth quarter saw a shift in which U.S. stocks did well while nearly everything else did poorly. U.S. stocks rose sharply after the surprise outcome of the U.S. presidential election, adding to strong gains that began in Q3. As Figure 1 shows, the S&P 500® Index rose 3.8% during the quarter, matching its Q3 gain in its strongest back-to-back quarters in three years. For the full year, the index advanced 12%. U.S. small-cap stocks did even better and were among the top performers for both Q4 and 2016, with gains of 8.8% and 21.3%, respectively.
By contrast, bonds generally performed poorly as interest rates spiked on expectations of increased government spending and potentially higher inflation. There are many different types of bonds, however, all with different characteristics. For example, Treasuries, which are highly interest rate sensitive, were down nearly 3%. But high-yield bonds actually produced positive returns, rising 1.6%. For the full year, high-yield bonds jumped 16%, and even Treasuries rose a solid 1.3%. Although the Fed raised short-term rates in December and long-term rates might move higher in 2017, bonds continue to play an important role in providing potential income and diversification benefits.
Figure 1: Market performance (ranked by Q4 2016 total return)
Total returns (%)
Asset class
Q1
Q2
Q3
Q4
2016
U.S small-cap stocks
-1.5
3.8
9.0
8.8
21.3
U.S. large-cap stocks
1.4
2.5
3.8
3.8
12.0
High-yield bonds
3.7
5.0
5.4
1.6
16.6
International large-cap stocks
-3.0
-1.5
6.4
-0.7
1.0
U.S. Treasury bonds
2.9
1.5
-0.3
-2.7
1.3
Investment-grade corporate bonds
4.0
3.6
1.4
-2.8
6.1
International small-cap stocks
-0.6
-2.6
8.6
-2.9
2.2
U.S. real estate investment trusts (REITs)
6.3
6.6
-1.3
-3.0
8.5
Emerging market stocks
5.7
0.7
9.0
-4.2
11.4
Emerging market debt
8.6
2.2
3.1
-7.5
5.9
International bonds
8.3
3.4
1.0
-10.3
1.5
Gold and other precious metals
16.0
8.1
-0.4
-13.2
8.4
Source: Morningstar Direct, as of Dec. 31, 2016. Performance figures shown are total returns for each asset class during the designated period. See disclosures for indexes used. Past performance does not guarantee future results. Indexes are unmanaged and cannot be invested in directly.
International investments show how top and bottom performers can shift rapidly
International investments also saw a shift in Q4, falling to bottom performers after ranking among top performers in Q3. International bonds tumbled more than 10%—hit by both higher interest rates as well as a stronger dollar. For the full year, however, international investments delivered solid to strongly positive returns, ranging from 1.5% for international bonds to 11.4% for emerging market stocks.
While international investments detracted from returns in Q4, top performers tend to cycle across different regions and investments over time and can shift rapidly. At any time, some investments may perform well and others may perform poorly, but we don't have the perfect foresight to know what will happen ahead of time. Taking a diversified approach can help avoid potential timing mistakes in trying to chase constantly shifting top performers.
Fundamental indexing shines in 2016
Fundamental indexing was one of the stars of 2016. Among the benefits of Schwab Intelligent Portfolios® is our unique approach in including both fundamental indexing and traditional market-cap indexing within the five major stock asset classes.2 We include both market-cap and fundamentally weighted ETFs because different market environments tend to favor each of these forms of index investing. This strategy added significantly to portfolio returns in 2016, with fundamental indexing outperforming market-cap indexing by about 2 and 22 percentage points, as shown in Figure 2. Fundamental emerging market stocks were among the top performers across all asset classes for the year, with a gain of 33%.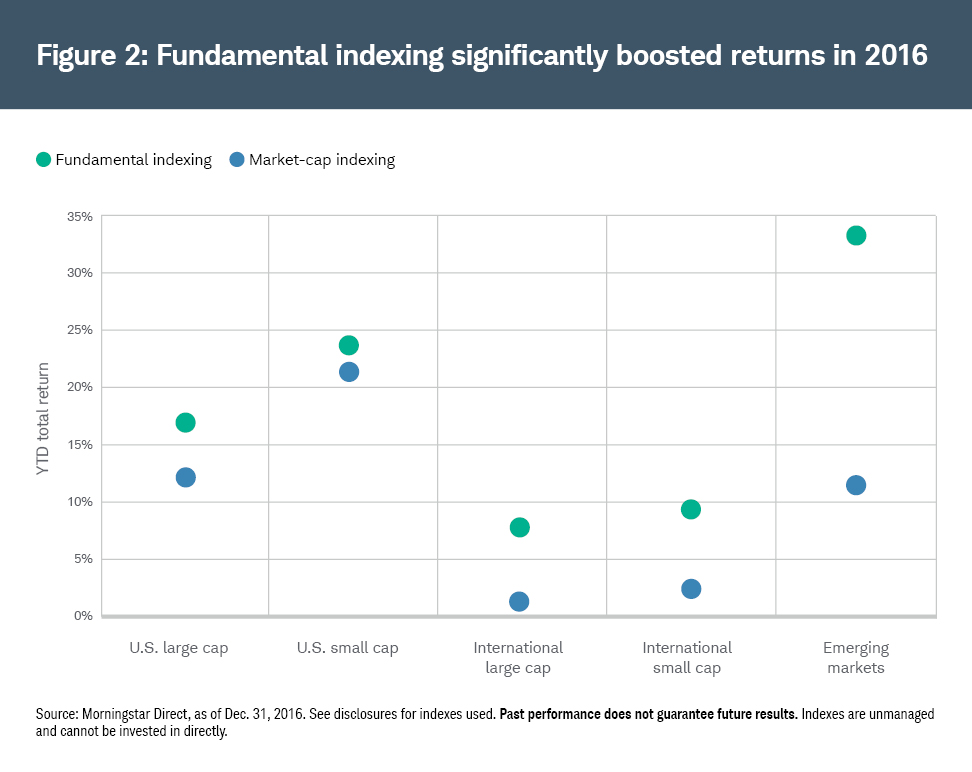 How did Schwab Intelligent Portfolios do?
All portfolios across the risk spectrum delivered strongly positive returns for 2016 while helping moderate the ups and downs of the financial markets through diversification. More aggressive portfolios did best for the year due to larger weightings to the strongest performing asset classes, such as U.S. small-cap stocks and emerging market stocks. Of course, more aggressive portfolios also saw greater volatility than conservative portfolios due to stock market turbulence at various points throughout the year.
By contrast, more conservative portfolios saw more moderate ups and downs and held up better during the stock market correction in Q1, due to their higher allocations in bonds and cash. During Q4, however, they lagged behind more aggressive portfolios as bonds were hurt by the spike in interest rates.
Knowing which type of portfolio is most appropriate for you is a matter of understanding your goals and risk tolerance. Schwab Intelligent Portfolios is designed to recommend a portfolio consistent with your objective, time horizon, and ability and willingness to take risk. Whether you're invested in a more conservative or more aggressive portfolio is based on your answers to our online Investor Profile Questionnaire. Because some asset classes are more volatile than others, determining how much volatility you can withstand is key to determining the most appropriate portfolio.
Looking ahead to 2017
Heading into the first quarter of 2017, Schwab's view continues to be optimistic amid an environment of improving corporate earnings and stronger global economic growth. Business optimism and consumer confidence have strengthened in recent months, and recession risk appears to remain relatively low. However, plenty of uncertainties remain around political risks, the pace of Fed rate hikes, continued U.S. dollar strength, trade policy and a range of other issues.
These uncertainties are likely to result in periods of turbulence throughout the coming year. As demonstrated in 2016, investing in a diversified portfolio based on your goals and risk tolerance can help you navigate through these inevitable periods of volatility while staying focused on your longer-term financial plan.
How Schwab Intelligent Portfolios Can Help
Schwab Intelligent Portfolios is designed to recommend a diversified portfolio consistent with your risk profile and manage your portfolio with discipline in order to keep you on track so you can reach your financial goals.
1. This quarterly commentary is designed to provide you with insight into the market environment during the quarter. How your portfolio performed is dependent upon your asset allocation across the risk spectrum from conservative to aggressive, as well as criteria such as when you opened your account, the timing of any deposits/withdrawals, timing of portfolio rebalances, whether you are enrolled in tax-loss harvesting and other criteria.
2. As an additional layer of diversification, Schwab Intelligent Portfolios splits the allocation between a market-cap weighted ETF and a fundamentally weighted ETF for the five major equity asset classes: U.S. large-cap stocks, U.S. small-cap stocks, international large-cap stocks, international small-cap stocks and emerging market stocks. Read our blog post for more information on fundamental indexing.