Market Commentary
March 9, 2017
The Federal Reserve has shown increasing signs that it may raise short-term interest rates at its March meeting.1 That would follow quarter percentage point increases in December 2015 and December 2016. While the prospect for higher rates may be good news for savers because yields on short-term investments should rise, it has also led to some anxiety among investors about the potential implications for their longer-term investments. So how have markets reacted to rising interest rate environments historically?
An interest rate hike signals increasing economic confidence
It's important to recognize that the Fed is raising rates because the U.S. economy has been strengthening. While economic growth since the financial crisis has been relatively moderate compared with historical recoveries, recent economic indicators have shown signs of stronger growth, and the Fed projects solid annual gross domestic product (GDP) growth of approximately 2% through 2019. Inflation remains tame and unemployment has fallen to 4.8% as of January 2017, a level that the Fed has historically considered consistent with full employment.
Although a rate hike would be the Fed's third in this cycle, it will still be raising rates from exceptionally low levels. And while the timing of future rate hikes remains uncertain, the pace of increases is expected to continue to be relatively slow. Slow Fed tightening cycles have historically been more supportive of financial markets than cycles in which the Fed was raising rates rapidly.
Fed rate hikes have historically led to short-term volatility but longer-term positive returns
Although financial markets have tended to respond to Fed moves with some volatility in the short term as investors adjust to the effects of higher rates, they have historically delivered positive returns over the following months.
As illustrated in Figure 1, U.S. stocks have on average seen strong returns in the one-year and six-month periods ahead of the first Fed rate hike during rising rate cycles over the past 20 years. Returns have been weakest in the three months before and after the first rate hike, followed by positive returns over the subsequent six-month and one-year periods.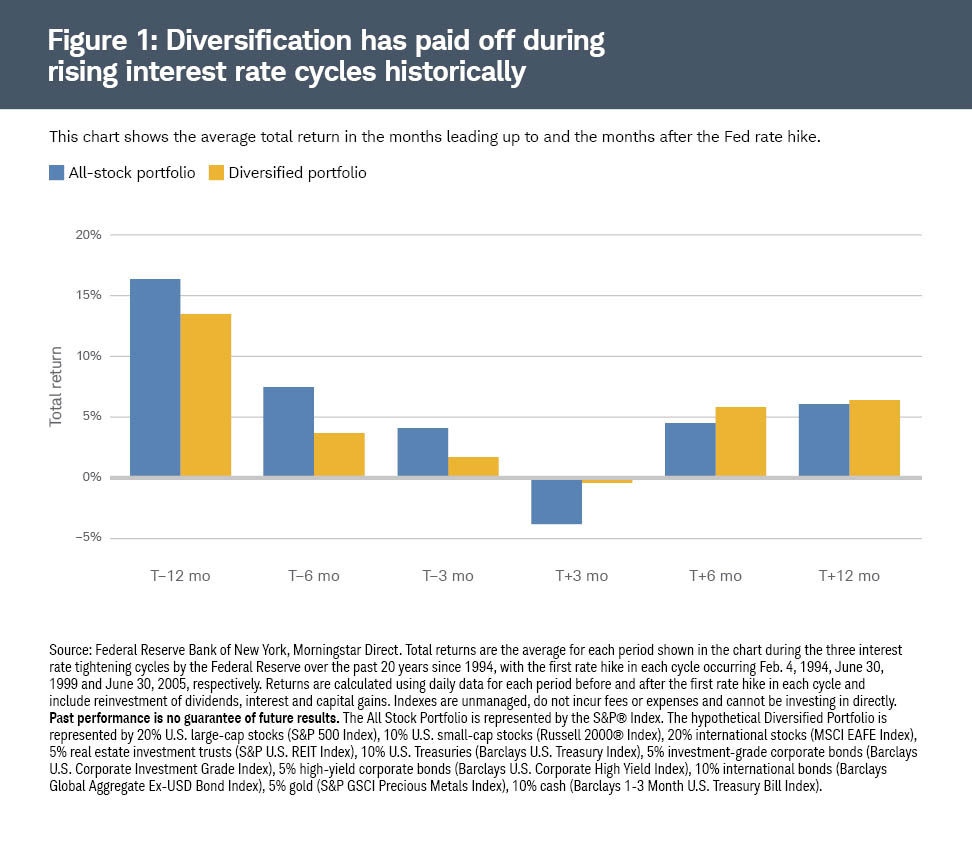 Figure 1 also illustrates the potential benefits of the type of global diversification used in Schwab Intelligent Portfolios® to help temper volatility and attempt to smooth returns over time. As shown in the chart, a hypothetical diversified portfolio consisting of not just U.S. stocks but also international stocks, various fixed income investments, gold and cash held up better during the weakest period—the three months following the first rate increase—and delivered positive returns during the subsequent six-month and one-year periods.
The most recent cycle since the Fed began raising interest rates on Dec. 15, 2015 has been consistent with this pattern. The first few weeks of 2016 were volatile and brought a market correction, with a decline of approximately 10.3% for the S&P 500 Index vs. a decline of about 5.4% for the diversified portfolio. Markets then recovered relatively quickly as investors assessed the impact of that rate hike. The result was that over the three months following the Fed's first move, the diversified portfolio from Figure 1 gained 1.5% vs. 0.3% for the S&P 500 Index. And over the six months following the rate hike, the diversified portfolio rose 4.6% vs. 3.6% for the S&P 500. Over the one-year period since the first hike, U.S. stocks retook the lead amid a strong post-election surge, with a gain of 14.3% vs. 7.6% for the diversified portfolio. While U.S. stocks have recently risen to record highs, it's important to keep in mind that a renewed bout of turbulence is inevitable at some point. As seen in early 2016, a diversified portfolio is designed to help moderate that potential volatility to help you stay focused on your longer-term financial goals.
Sticking with your investment plan is important to long-term investment success
History does not repeat itself, but it often rhymes, as noted in a quote often attributed to Mark Twain. A Fed interest rate increase is not something investors should fear, as it can signal increasing confidence in the strength of the U.S. economy. While financial markets may experience some volatility in the near term, investors who maintain a disciplined investment strategy using a well-diversified portfolio based on their long-term objectives and risk tolerance have a better chance of successfully meeting their investment goals over time.
David Koenig CFA®, FRM®, Vice President and Chief Investment Strategist for Schwab Intelligent Portfolios®
1. The Federal Reserve controls short-term interest rates by setting a target for the federal funds rate that depository institutions use to lend balances at the Federal Reserve to each other overnight. Changes in the federal funds rate can have an indirect effect on longer-term interest rates; however, longer-term rates are determined by market participants and are influenced by many factors.
The S&P 500® Index is a capitalization-weighted index of 500 stocks from a broad range of industries. The component stocks are weighted according to the total market value of their outstanding shares.
The Russell 2000® Index measures the performance of the small-cap segment of the U.S. equity universe. The Russell 2000 Index is a subset of the Russell 3000® Index representing approximately 10% of the total market capitalization of that index. It includes approximately 2000 of the smallest securities based on a combination of their market cap and current index membership.
The MSCI EAFE® Index (Europe, Australasia, Far East) is a free float-adjusted market capitalization index that is designed to measure developed market equity performance, excluding the U.S. and Canada. The MSCI EAFE Index consists of the following 21 developed market country indexes: Australia, Austria, Belgium, Denmark, Finland, France, Germany, Hong Kong, Ireland, Israel, Italy, Japan, the Netherlands, New Zealand, Norway, Portugal, Singapore, Spain, Sweden, Switzerland, and the United Kingdom. The S&P U.S. REIT Index defines and measures the investable universe of publicly traded real estate investment trusts domiciled in the United States.
The S&P GSCI Precious Metals Index provides investors with a reliable and publicly available benchmark for investment performance in the precious metals market.
The Bloomberg Barclays U.S. Treasury Index measures U.S. dollar-denominated, fixed-rate, nominal debt issued by the U.S. Treasury. Treasury bills are excluded by the maturity constraint, but are part of a separate Short Treasury Index. STRIPS are excluded from the index because their inclusion would result in double-counting. The U.S. Treasury Index is a component of the U.S. Aggregate, U.S. Universal, Global Aggregate and Global Treasury Indices.
The Bloomberg Barclays U.S. Credit Index measures the investment grade, U.S. dollar-denominated, fixed-rate, taxable corporate and government-related bond markets. It is comprised of the U.S. Corporate Index and a non-corporate component that includes foreign agencies, sovereigns, supranationals and local authorities. The U.S. Credit Index is a subset of the U.S. Government/Credit Index and U.S. Aggregate Index.
The Bloomberg Barclays U.S. Corporate High-Yield Bond Index covers the USD-denominated, non-investment grade, fixed-rate, taxable corporate bond market. Securities are classified as high-yield if the middle rating of Moody's, Fitch, and S&P is Ba1/BB+/BB+ or below.
The Bloomberg Barclays Global Aggregate Ex-USD Bond Index is designed to be a broad-based measure of global investment-grade fixed income markets outside of the U.S.
The Barclays 1-3 Month U.S. Treasury Bill Index includes all publicly issued zero-coupon U.S. Treasury Bills that have a remaining maturity of less than 3 months and more than 1 month, are rated investment grade, and have $250 million or more of outstanding face value. In addition, the securities must be denominated in U.S. dollars and must be fixed rate and non convertible.
The information provided here is for general informational purposes only and should not be considered an individualized recommendation or personalized investment advice. All expressions of opinion are subject to change without notice in reaction to shifting market or economic conditions.
Diversification strategies do not ensure a profit and do not protect against losses in declining markets.
Investing involves risks including possible loss of principal.
(0318-8J2V)
---
Next Steps
---

Contact a Schwab investment professional to discuss your goals:

Call us at 855-694-5208