By Chuck Schwab, Founder and Chairman, The Charles Schwab Corporation
When I am asked what is the most important thing an investor can do to reach their investing goals, I have a simple answer. It's not buy low and sell high, it's not buy and hold, swing for the fences or find the hidden gem . . . it is two simple words, "asset allocation."
Because those two words are at the very heart of what makes Schwab Intelligent Portfolios™ the powerful investing service that it is, I wanted to share with you some personal perspective on the topic. For a great, detailed discussion of how asset allocation works, I encourage you to read more here in our whitepaper on the topic.
Early on in my career, I didn't realize that asset allocation of your portfolio was the most important factor determining your investment outcome. The investment world had always focused on the importance of picking the right stocks – it was all about the "stories" that a broker told: how a particular company was going to be "the next big thing," and shouldn't be passed up. It was the allure of thinking you had the inside track and could know something that others didn't.
In the early 50s, as I was finishing up school, Harry Markowitz launched Modern Portfolio Theory and was awarded the Nobel Prize for his seminal thinking, showing that diversification and asset allocation were the keys to balancing risk and return.1 It slowly began a new way of thinking for many in the investing field and by 1986, Gary Brinson, Randolph Hood and Gilbert Beebower published, "Determinants of Portfolio Performance," which showed that 90% of a portfolio's performance over time is the result of asset allocation2 not security selection.
Asset allocation is a lot like a symphony. It can make beautiful music if every section of the orchestra does its part. If only one section of instruments is playing well, the orchestra never is able to maximize its potential. Each class of assets has a completely different characteristic from the others. Their class moves up and down in value according to their special characteristics and in reaction to changing market dynamics. Every piece plays a role but the whole is truly greater than the sum of its parts.
It is always interesting with the perspective of time to look back and see the genesis of an idea and how it has improved over the years. Here's how the story played out at The Charles Schwab Corporation ("Schwab").
Roughly 20 years ago Schwab was still evolving from a place where people could come and do inexpensive stock trades or purchase mutual funds into a company serving a wider group of investors who needed investment guidance more than they needed transactional support. I wanted to be able to help those clients to be successful investors.
With Stanford University just down the freeway, we were fortunate to be able to tap into the talented group of academics that had made that institution a hub of leading thinking and research on economics and investing. Back then, every quarter Schwab brought in special guests to talk to our executives about their research and latest thinking over lunch. Regular guests from Stanford included Michael Boskin, who later became the chairman of the Council of Economic Advisors under President George H.W. Bush, John Shoven who is the Director of the Stanford Institute for Economic Policy Research, and Bill Sharpe, who won the 1990 Nobel Prize in Economics for his work on asset allocation and diversification.
Looking back, the main idea we took away from those meetings is as relevant today as it was then: the single most important insight available to investors to manage their investments—and to attempt to maximize returns while minimizing risk—is focus your attention on the total portfolio and use asset allocation.
If your ultimate goal is building long-term financial independence, a successful approach always begins with a foundation, and that foundation is your portfolio structure. A sound, well-designed, long-term investment portfolio requires adequate diversification within various asset classes, and is diversified across classes to help mitigate the impact of the cyclical nature of markets.
All those years ago, our engaging discussions on the topic cemented our thinking and we have been advocates of risk management, broad diversification, asset allocation and rebalancing ever since. In my book, Charles Schwab's Guide to Financial Independence, I laid out a series of portfolios designed to meet a range of risk profiles, from conservative to aggressive – that included cash, bonds and equities in varying proportions.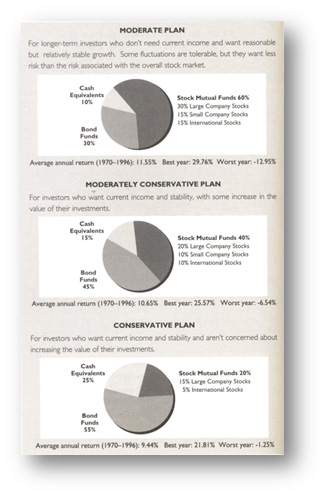 Source: Charles Schwab's Guide to Financial Independence, 1998. The sample asset allocations above are for general informational purposes only and should not be considered an individualized recommendation or personalized investment advice. The investment strategies mentioned may not be suitable for everyone. Each investor needs to review a security transaction for his or her own particular situation.
These became central to our investment guidance going forward. Of course I believed then as I do today, that investing carries significant short-term risk and that people with a financial goal or need that is as short as a few years away are best served with an ultra-conservative approach—a small exposure to stock, less than 20% of their portfolio, and a significant allocation to stable cash, 30% or more, and a heavy dose of bonds. As your timeframe extends, equities and other more volatile but growth-oriented assets should play a larger role. I still keep a copy of a handwritten note I sent to all employees in 1995 reminding them that investing is multi-year commitment, "investing requires patience and courage, particularly through the down markets!"
Time doesn't stand still. The portfolios I described in my book were relatively simple and had to be based on the types of investments easily available to the average investor at the time. That typically meant broad-based mutual funds. At the same time, I was seeing how institutions were able to do so much more with access to a wider variety of investment products, for example by adding commodities, fundamentally-weighted strategies and greater international diversification. (If you're interested in learning more about Fundamental Indexing, find it.)
I have always thought the individual investor deserves access to the same kind of sophisticated approaches used by large institutions like foundations and pension funds. Historically that wasn't possible. The world has changed: technology enables us to do far more for less; and we have new investment products like exchange traded funds (ETFs) that make access to multiple asset classes easier and at a lower cost.
And so we've been able to evolve our services at Schwab to mirror those sophisticated institutional approaches. Going far beyond the original asset allocation models I described in my book, today a more sophisticated approach has been applied to a broad array of products and services at Schwab to help with asset allocation including Schwab Intelligent Portfolios, which also layers in automated rebalancing for all accounts and tax-loss harvesting available for accounts over $50,000. Learn more.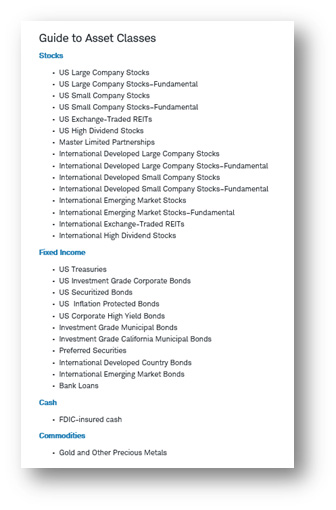 Source: Intelligent.schwab.com Guide to Asset Classes
The thinking about asset allocation and diversification continues to evolve and improve since I was first beginning in this business. Some of the evolution is being fueled by new computing technology that allows us to manage vastly more complex calculations to determine how different asset classes interact, or that help us manage complex investment tools like ETFs more easily to keep costs extremely low. Some of it is fueled by new products designed to capture parts of the market that were unavailable to individual investors before. Some of it reflects the increasingly global nature of the economy, or just more sophisticated thinking about what impacts a portfolio's return–from simple things like costs, to more complex issues such as the impact of regular rebalancing, which keeps your asset allocation in line with its target allocation as markets fluctuate, functioning as a disciplined buy low, sell high mechanism. Approaches that can now be accomplished with automated technology we couldn't have imagined 20 years ago. Taken together, I believe we're seeing a wonderful new golden era of opportunity for individual investors who can now easily apply sophisticated investment strategy here at Schwab.
So if we were to bump into each other on the street and you were to ask me, Chuck, what's the best way to help me reach my investing goal? My answer will be simple, asset allocation.
1. Markowitz, Harry, "Portfolio Selection," Journal of Finance, March 1952.
2. Brinson, Gary, Randolph Hood, and Gilbert Beebower, "Determinants of Portfolio Performance," Financial Analysts Journal, July–August 1986, 39–44.