The first ETFs were designed to provide broad, low-cost market exposure by mimicking the performance of the most popular indexes. Most of those indexes were "market-cap weighted," which means that the bigger a company's market capitalization—its share price multiplied by the number of outstanding shares—the larger its weight in the index. As a result, market-cap strategies tend to overweight overvalued stocks, and underweight undervalued stocks.
Fundamentally different
Fundamental strategies, on the other hand, weight stocks based on fundamental factors like sales, cash flow, dividend distribution and buybacks. Fundamental strategies across the market vary based on the factors they evaluate—one fundamentally weighted ETF might weight companies by sales, while another might weight stocks primarily based on cash flow, revenue, buybacks or some proprietary combination of these or other factors.
Because fundamentally and market-cap weighted ETFs both track indexes, they provide similar cost advantages. However, their performance can vary widely. A market-cap index and a fundamentally weighted index focused on the same asset group will typically own similar stocks—but in different proportions.
Fundamentally weighted and market-cap indexes may hold the same companies, but at different weights.
Russell Fundamental US Large Company Index

| | |
| --- | --- |
| Exxon Mobil Corp | 4.6% |
| Chevron Corp | 2.5% |
| AT&T Inc | 2.1% |
| Microsoft Corp | 2.1% |
| Procter & Gamble Co | 1.5% |
| ConocoPhillips | 1.5% |
| Intel Corp | 1.4% |
| Wal-Mart Stores Inc | 1.4% |
| Verizon Communications Inc | 1.4% |
| General Electric Co | 1.3% |
Russell 1000® Index
(Traditional Market-Cap Index)

| | |
| --- | --- |
| Apple Inc | 3.0% |
| Exxon Mobil Corp | 2.0% |
| Microsoft Corp | 1.9% |
| Johnson & Johnson | 1.5% |
| General Electric Co | 1.3% |
| Berkshire Hathaway Inc | 1.3% |
| Wells Fargo & Co | 1.2% |
| JP Morgan Chase & Co | 1.1% |
| Chevron Corp | 1.1% |
| Procter & Gamble Co | 1.1% |
Source: Russell Investments. Top 10 holdings as of September 30, 2014. For illustrative purposes only. Holdings are subject to change without notice. Not a recommendation or guarantee that any company has been or will be profitable.
Take Apple Inc. (NASDAQ: AAPL), for example. Because it is the largest stock by market cap in the United States, it has the largest weighting in market-cap-based large-cap indexes. However, it might not have a prime position in a large-cap fundamentally weighted index that looks at economic factors.
Differences add up
The different weights assigned to companies in traditional market-cap-based indexes versus fundamentally weighted indexes mean that the indexes will perform differently. A few heavily weighted stocks have the power to influence the overall results of the index—for better or for worse. And because each type of index will overweight different stocks, these differences could lead to markedly different returns over time.
The Apple effect
Apple's stock price has had a disproportionate effect on market-cap indexes.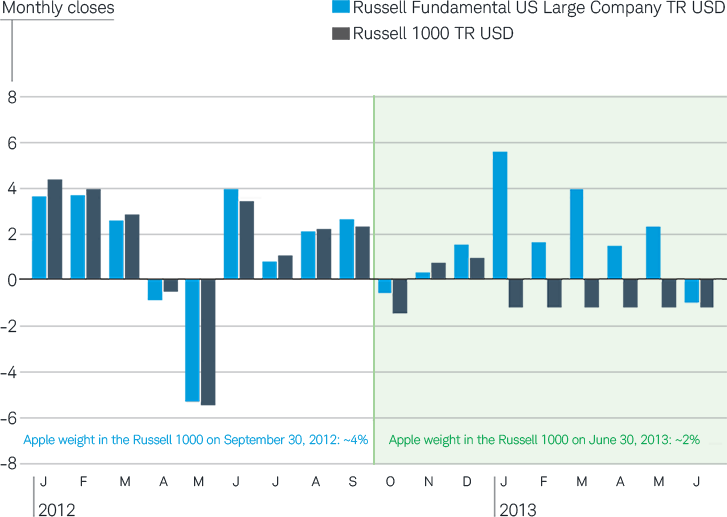 Source: Morningstar Direct, from January 1, 2012, to June 30, 2013. Past performance is no guarantee of future results.
Splitting the difference
Given their unique construction, fundamentally weighted ETFs can complement traditional index ETFs in a portfolio. To help ensure that you are truly diversified, Schwab Intelligent Portfolios™ invests in both market-cap-based and fundamentally weighted ETFs with the goal of helping to reduce volatility and provide better risk-adjusted results.