The U.S. dollar recently hit a 12-year high against the euro, an 8-year high against the Japanese yen and has strengthened (or even set records) against many emerging-market currencies. This has been very welcome news for U.S. investors travelling abroad—as dollars stretch much further.
But a strong dollar can hurt foreign stocks and bonds, especially those denominated in local currencies that weakened relative to the dollar. Why? Because the return of overseas investments is a function of the performance of the securities plus or minus the rising or falling value of that currency. When the dollar is strong, international stock or bond gains can be reduced, or wiped out.
On top of the dollar's strength, there are persisting economic and geopolitical problems around the world that give investors pause: Europe's in tumult, China's growth is on the wane and Russia looks risky. It may seem like a smart move to scale back—or even eliminate—international investments and stick to U.S. securities instead. But's that's not necessarily the case for all investors. Keeping a slice of your holdings abroad may actually reduce your risk and improve your portfolio's growth potential.
In the chart below you can see how hypothetical portfolios would have performed over time against the amount of risk each portfolio took on.  The chart shows that for over more than four decades it would have been riskier to hold only international stocks compared with U.S. securities. But a mix of domestic and international stocks, as represented by the S&P 500® Index and the MSCI EAFE Index, respectively, over that time span would have reduced risk (and only marginally reduced return) compared with just holding U.S. stocks.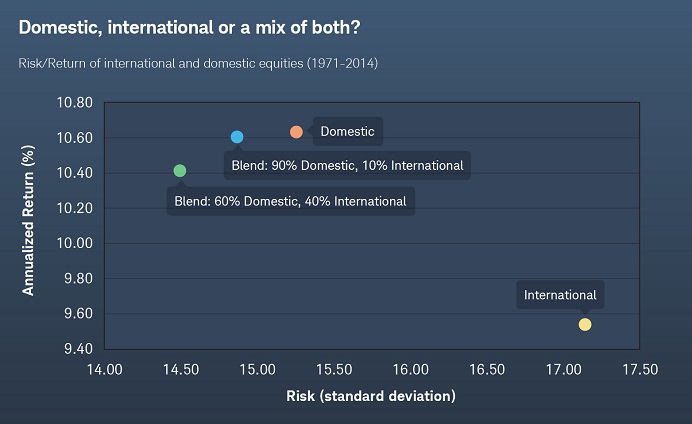 Source: Schwab Center for Financial Research with data from Morningstar, Inc. Data shows the annualized returns from January 1971 through December 2014. Returns assume reinvestment of dividends, and do not include taxes or fees. The example is hypothetical and provided for illustrative purposes only. It is not intended to represent a specific investment product. Indexes are unmanaged, do not incur management fees, costs and expenses, and cannot be invested in directly.
Geographic diversification can provide some downside protection for domestic investments
Another reason to have at least some foreign stocks in your portfolio centers around what is known as correlation—the fact that many different types of investments are increasingly moving in sync, particularly during bear markets. So if markets decline, a group of perfectly correlated assets will drop in tandem. This greater correlation means it's more important than ever to seek out securities less likely to move in step with U.S. stocks—so you'd have some investments that won't move in lock-step.
Internationally, you're likely to find assets that are less correlated with U.S. stocks and bonds. That's because U.S. stocks are exposed to U.S. economic and market forces while stocks domiciled outside the U.S offer exposure to a wider array of economy and market forces. Of course, it's not possible to predict which markets will move in sync. That's why spreading your allocation around the globe should offer the best cushion against dramatic falls.
Emerging markets can offer additional growth potential
Another reason to remain invested overseas is to tap into the potential of emerging markets—defined as those with economies that aren't fully mature or developed but on a path to get there. With more than 5.5 billion people, emerging markets account for half of the world's global output and 13% of all stock markets combined. Compared to developed countries like the U.S., Japan, and Germany, many emerging markets offer more rapid economic growth, have significantly lower debt relative to the size of their economy and have a fast-growing middle class eager to consume new products and services.
Some investors believe they can grab a slice of overseas growth via large U.S.-based global brands, which often get much of their revenue abroad. But multinationals aren't a substitute for foreign companies. Small, local firms sometimes have unique marketing prospects and higher rates of growth compared to multinationals in the same countries.
Although the U.S. dollar is on quite a run, it won't remain strong forever—like stocks and bonds, currencies fluctuate over time. Eliminating overseas investments just because the dollar is strong now might work out over the short term. But long-term, that strategy could increase your risk and eliminate your exposure to potentially faster-growing markets.
Schwab Intelligent PortfoliosTM includes international and global ETFs denominated in a range of currencies. That helps you get benefits of international diversification and growth potential while spreading around currency risk—all without leaving home.